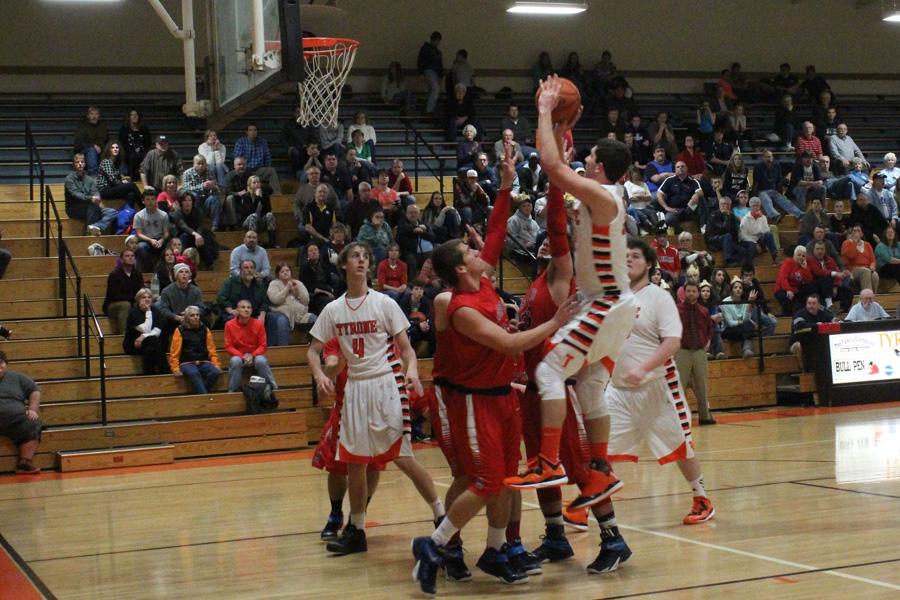 Grace McKernan
The Tyrone boys basketball Mountain League conference game at home against the Huntingdon Bearcats turned into a long range shootout with both teams combining for 25 three point shots.
When the dust settled, it was Tyrone who finally came out on top.  The 74-69 victory keeps the Eagles perfect on the season at 5-0.
Tyrone's senior starting point guard Shane Geis had a career high seven three pointers and an inside bucket for a combined 23 points.
"Shane Geis was lights out with the three point shot tonight, it was a very good win,"  said Tyrone head coach George Gripp.
Tyrone had a very good first half going up 36-29.
The Eagles played tough defense in the third quarter, limiting the Bearcats to seven points, but the defense faltered late in the game as the Eagles gave up 33 points in the fourth quarter.
"We needed every bit of offense to win this game because our defense wasn't doing the job it usually does," said Tyrone senior starting point Guard Shane Geis.
Both teams dominated each other in shots at some point in the game.
"We shot very well tonight, Geis went off and when we did miss a shot our big guys down low did a good job of getting the offensive rebounds," said Tyrone guard Pooky Soellner.
"They had 33 points in the third quarter and that can't happen," added Geis, "Good team win though."
The Eagles next game is away at Clearfield at 7:00 p.m. on Friday, December 19.
Box score:
1st 2nd 3rd 4th total
Tyrone: 20-16-17-21- 74
Huntingdon: 19-10-7-33-  69
Scoring: Tyrone- Pa. Mitchell 1 1-4 3; Brooks 3 0-0 6; Geis 8 0-3 23; Soellner 7 3-4 18; Lingafelt 2 1-3 7; Pr. Mitchell 3 2-2 8; A.Politza 4 1-2 9
Scoring: Huntingdon- M.Speck 1 0-0 2; Fredrick 5 1-2 11; Gearhart 8 1-2 24; King 6 1-5 17; Montgomery 2 1-3 7; Shetrom 1 0-0 3; Kyper 1 2-2 5