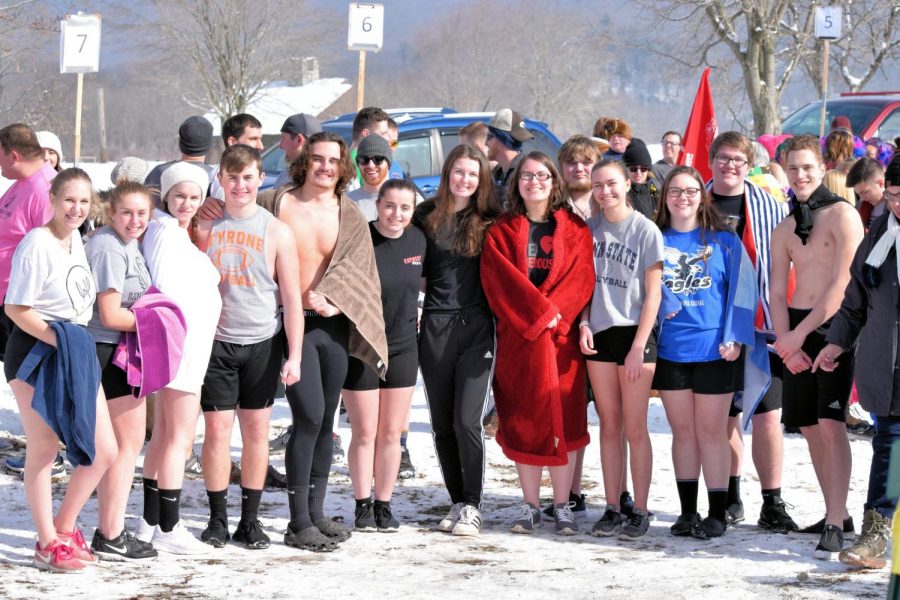 Christie Taylor
Junior Jessica Chronister was one of thirteen Tyrone High School students who took an icy plunge in 32 degree water at Canoe Creek State Park on February 2 to help raise money for the Special Olympics Winter Games.
"The water was surprisingly warmer than the air," said Chronister, "It was freezing to the point where I couldn't feel my feet, but ultimately it was a fun experience, and I will definitely participate again next year."
The annual Polar Plunge was especially cold this year.  The air temperature was 17 F  and before the plungers could even enter the water, a hole had to be cut through six inches of solid ice.
The Tyrone student group was organized by heath tech teacher and HOSA adviser Christie Taylor.  Each student had to raise a minimum of $50 to participate.
Tyrone divided themselves into two teams. Team HOSA had Hollie Keller, Mason Thomas, Kendal Markley, Mara Focht, Maddie Diebold, and Paige Kephart. Team TAHS was made up of Maria Myers, Levi Blazer, Richard Chronister, Jessica Chronister, Christopher Wilkins, and Brendan Manis.
The Tyrone students raised over $700 for the Special Olympics.  Maddie Diebold raised the most with $90, and Hollie Keller was a close second with $80.
Team HOSA brought in slightly more money than team TAHS, thanks to the additional efforts of the above mentioned ladies.
Overall, the 2019 Polar Plunge raised over $125,000 to support Special Olympics in the region.
"I just think it's a great time and everyone has fun. They get to see a lot of people who compete in the special Olympics and it's a great experience. Especially for those who have family members who have disabilities," said Taylor.
In addition to the Tyrone students, a total of 320 other volunteer fundraisers took the plunge this year. 
This was the second year that Taylor organized a student group for the event, but she has yet to take the plunge herself.
"I think if [some other] staff would get involved I would definitely do it," said Mrs. Taylor, who took photos for the Eagle Eye.
All of the underclassman who plunged this year plan to do it again next year, with a goal of doubling the amount of plungers, and money raised, in 2020.
Students interested in participating next year should see Mrs. Taylor for more information.
"It was really fun and I love helping people with disabilities," said Diebold.