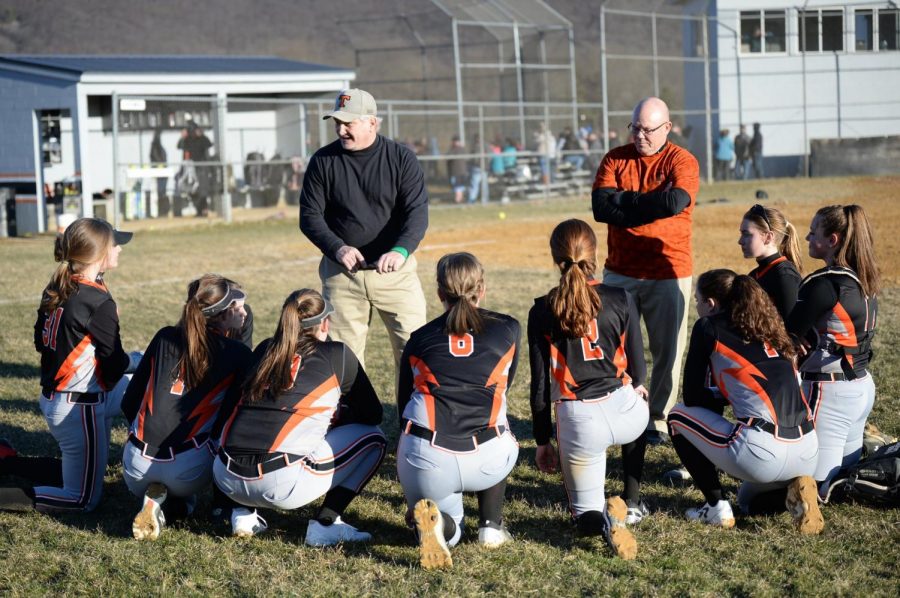 Courtesy of Terry McCaulley Jr.
Tyrone softball shut out Bellefonte 5-0 in their season opener yesterday. It was the Eagle's first win over Bellefonte in seven years.
"All of our off-season work is paying off, and I couldn't have asked for a better start of the season," said junior Ally Jones, who had two hits and two RBIs in the win.
Tyrone did most of their damage in the bottom of the third inning, scoring four runs.
Victoria Reese started the inning with a walk. Winnie Grot then hit an infield single to the shortstop. Cate Baran walked to load the bases for sophomore Ella Pearson. Reese was the first run in for the Eagles, scoring on passed ball. Pearson then hit an infield single to second base, scoring Grot from third. Junior Ally Jones was next and hit a two RBI single up the middle to score both Baran and Pearson.
To start off Tyrone's fourth inning, Madison Coleman singled on a bunt. Coleman advanced to second on a wild pitch and stole third base. Grot had an RBI ground out to score Coleman for the Eagle's fifth run of the game.
Baran, the winning pitcher, pitched a shutout and finished the game with 10 strikeouts and three hits. Bellefonte's Lexi Rodgers was the losing pitcher.
The Lady Eagles had seven hits in the game.  The Eagles next game is Friday at home against Penns Valley.  Start time is 4;30.  
BOX SCORE
SCORE BY INNINGS
Bellefonte 000 000 0 — 0
Tyrone 004 100 X — 5
2B–Callie Maceno, Alley Jones (Tyrone) T. Kerr (Bellefonte) 3B–none. HR–none.
Multiple hits–A. Jones 2 (Tyrone). RBI Winnie Grot, Ella Pearson, A. Jones 2 (Tyrone).
Winning Pitcher–Cate Baran SO 10 BB 1. Losing Pitcher –L. Rodgers SO 4 BB 1
Records: Bellefonte (0-1). Tyrone (1-0)