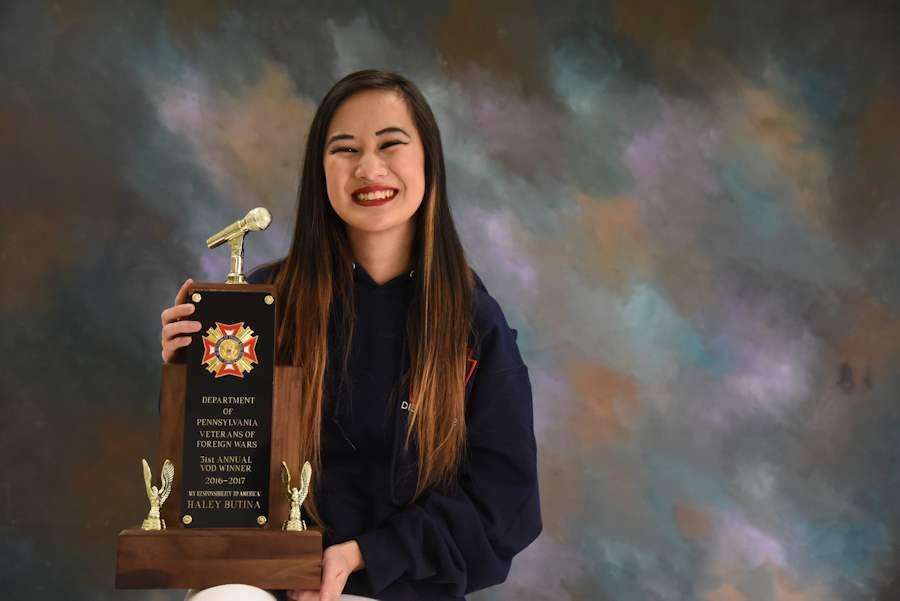 Tyrone senior Haley Butina beat out over 3,000 entries from students across the state of Pennsylvania to be named the 2017 winner of the Pennsylvania Voice of Democracy Speech Contest sponsored by the VFW (Veterans of Foreign Wars).
For winning states, Butina received $2,500 and moves on to the national competition in Washington D.C. at the end of February. There she has the chance to win an additional $30,000 scholarship.
Students across the nation in grades 9-12 were invited to write and record a five minute speech around a chosen theme. This year's theme is "My Responsibility to America."
This was Butina's second entry in the competition.  As a junior last year, Butina made it to the district level.
"Mr. Everhart offered this essay competition as an alternative for an essay in my junior year. I only made it to the district level last year and did not advance to States, but I wanted to try it again," said Butina."I want to thank Mr. Everhart for everything he's done to help me these past two years. This is an incredible opportunity and I couldn't be more blessed to have such a great teacher."
Butina is looking forward to her trip to the national competition in late February.
"I love Washington, D.C., so I'm excited to visit and tour the museums," said Butina, "I'm very excited to meet new people and I think it will be amazing to be able to represent the state of Pennsylvania."
According to Butina, the experience has been wonderful.
"The VFW took great care of me during every level of the competition, they provided great dinners and fun things to do. At States, the other winners and I all got to go to the Carnegie Museum of Natural History. I loved meeting all of the new people and making new friends. But what is the most eye-opening is getting to know the VFW, my District, 22, and the veterans that are involved with this program. Getting to know them and the work that they've done and how much these essays mean to them is just such a humbling experience. Moving on to nationals was the craziest thing to ever happen to me."

Butina will graduate from Tyrone Area High School in June. She plans to attend Susquehanna University where she will major in English and  secondary education.

"I'm so excited and proud to be representing Tyrone at Nationals," said Butina.