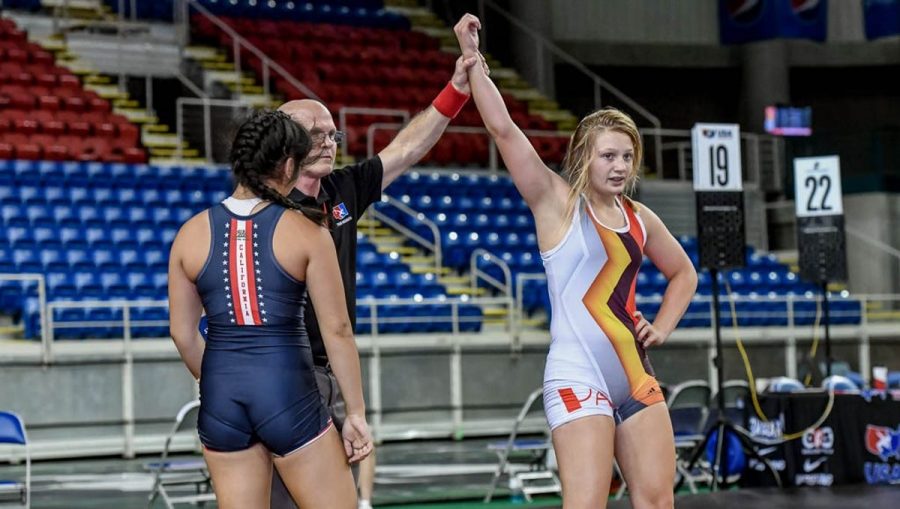 Photo courtesy of Nic Cortez/Mat Focus
Tyrone senior Tiffani Baublitz is one of the newest members of the Tyrone Class of 2021, having just moved into the district last fall from Kennard-Dale High School in Fawn Grove PA.
As a result, Tyrone sports fans probably don't know much about her.
But they should.
Baublitz is one of the top female high school wrestlers in the country.
She is currently ranked second in the nation at the 162 lbs weight class by USA Wrestling, FloWrestling, and the National Wrestling Hall of Fame and Museum's final national rankings for the 2020-21 season.
She has earned a full scholarship to continue her athletic and academic career at King University in Bristol, Tennessee in the fall.
Baublitz has been wrestling competitively for eleven years. She got her start thanks to her brother's wrestling career.
"My older brother wrestled and I was always being dragged along to his practices, so one day I decided to try it for myself," said Baublitz.
That was a good decision because wrestling has taken Baublitz to dozens of states and at least seven different countries.
Baublitz has competed internationally in Canada, Austria, Germany, Mexico, Columbia Lichtenstein, and Japan.
"I have so many stories of traveling the world and wrestling. I'm so grateful for all of the opportunities that I have had." said Baublitz.
Closer to home, Baublitz won her third consecutive PA Girls High School State Championship in Manheim, PA on March 21. Baublitz won the championship match in a 9-1 major decision over Kaitlyn Pegarella of Greater Nanticoke Area. She dominated the 164 lbs weight class, earning her way into the finals with falls in both her quarter and semi-final matches.
Internationally, Baublitz won a gold medal at the Cadet Pan American Championships in Morelia, Mexico in the summer of 2019.
While women's wrestling is still developing as a high school sport, and while it has not been sanctioned by the PIAA, it has grown tremendously over the past several years.
According to SanctionPA, an advocacy group for girls wrestling in Pennsylvania, women's wrestling is the fastest growing high school sport in the US. Last season there were over 21,000 girls wrestling at the high school level, according to NFHS participation statistics.
There are currently 21 states that sanction girls wrestling. In addition, there are over 75 colleges that have women's wrestling, five in the state of Pennsylvania. SanctionPA says that there are approximately 230 girls wrestling on 139 Pennsylvania high school teams and another 289 at the junior high level.
Before she moved to Tyrone, Baublitz wrestled for the Maverick Wrestling Club in Forest Hills, Maryland. Baublitz is no longer a member of the Mavericks, but she just recently joined a new club in State College founded by David "Magic Man" Taylor, the former two-time Penn State national champion and Olympic hopeful.
When it came to choosing a college, Baublitz wasn't originally planning on traveling out of Pennsylvania, but after months of research, she decided on King University in Bristol, Tennessee where she will major in political science.
The King University Tornado women have won eight national titles, four NWCA National Duals, and four WCWA national championships.
Since its inception in 2009 as one of the first collegiate women's wrestling programs in the country, King has produced one U.S. Olympian, 19 U.S. Olympic Trials participants, and 10 NCAA WCWC All-Americans.
Baublitz hopes to be their next NCAA champion and US Olympian.