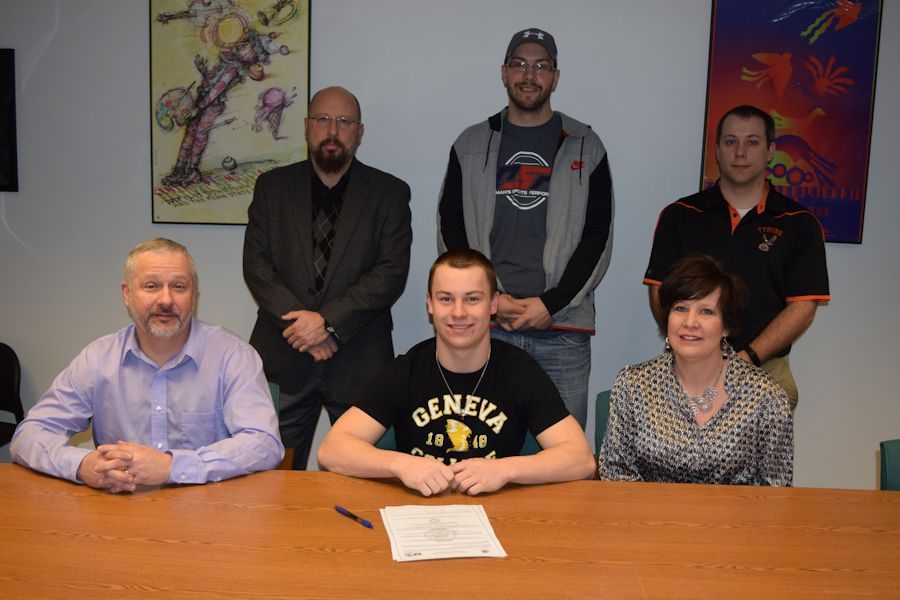 Cassie Friday
Tyrone senior Gary J. Weaver III is trading in his orange and black for black and gold.
Weaver will attend Geneva College this fall, where he will take his quick, slashing running style to the NCAA Division III collegiate level.
Gary's senior season was limited to only three games due to a knee injury, but as a junior Weaver was the team leader in rushing and touchdowns, rushing for 1,518 yards, the thirteenth best season rushing total in school history.  Weaver ended his Tyrone football career with over 2,000 yards rushing and 27 touchdowns.
"Gary has been a significant part of the Tyrone football program since I had him as a sophomore," said Tyrone Head Coach Justin Wilson, "He has a great attitude, works hard and is a leader. He was dedicated to the program and has a great work ethic to achieve his goals. Gary represented the program, school and the community with the highest dignity. The coaching staff at Geneva will enjoy having him."
With the knee fully healed, Geneva gets a steal in the shifty Weaver, who is excited to see where his freshman year will take him. Weaver will join the Golden Tornadoes as a running back.
"They run a triple option offense and the coaches think I have a good shot at getting one of the three starting spots," said Weaver.
According to Weaver, Geneva was an easy decision. Being a top student as well as a talented athlete, he was looking closely at academics as well as athletics when considering schools. The small, liberal arts college in Beaver Falls, northwest of Pittsburgh, had exactly what Weaver was looking for in both areas.
"I liked that it was a small college and is a Christian school that has a great engineering program," said Weaver, who plans to major in mechanical engineering. "I made friends with a lot of the kids on the team when I visited and the coaches are very nice.  Its a small school, but there is a lot to do and the scenery around campus is great."
"I'm really excited to have another Tyrone player continue their education and have the opportunity to play football at the next level," said Wilson.
Geneva is no stranger to Tyrone football players, as Tyrone standout and 2012 Tyrone graduate Markus Wagner had a very successful career at Geneva. Wagner was a four year starter and letterman for the Golden Tornadoes, playing special teams his freshman year and down safety the next three seasons.
While the Golden Tornadoes were a disappointing 3-7 last season, they have one of the strongest winning traditions in Division III football. They are five-time NCCAA Division III National Champions, they have a winning conference record in 20 out of the last 23 seasons, and have appeared in the Division III post-season in 13 of the last 21 seasons.
Their head coach, Geno DeMarco, has spent 23 seasons at Geneva and is the school's all-time winningest coach with five Victory Bowl Championships. He is also has the second most wins of any coach in Western Pennsylvania, and is among the top five in wins in the state.