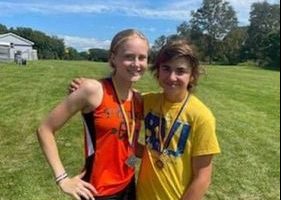 Tyrone Cross Country opened its season at the annual Big Valley Invitational this past weekend. The team finished the day with one varsity medalist, one junior high medalist, and one varsity runner in the top 20.
The Big Valley Invitational is a large cross-country meet near Belleville. The meet consisted of 17 schools and over one hundred runners in both the boys and girls varsity meets.
Junior Beth Pearson ran through the finish line with a time of 23:02 to earn a 10th place medal and the top finish among Tyrone varsity runners.
Eighth-grade runner Caleb Miller flew through the course to take 4th place in the Junior High division.
Senior Adam Detwiler was just three places off of receiving a medal, finishing 18th with a time of 18:33.
"I felt like placing top 20 at Big Valley was a great start to my senior year and a great milestone I wanted to accomplish," said Detwiler.
With such great results from all the runners at such a big meet so early in the year, Tyrone is sure a force to be reckoned with. Tyrone Cross Country will continue to compete strongly in the upcoming meets.
¨I was very happy with the way all of our runners competed at Big Valley. We had some great performances and it was a great opening to our season,¨ said Tyrone head coach Tammy Wills.