Tyrone Publicly Recognizing its Seniors
Photos at the Tyrone Library and banners throughout town will honor the Class of 2020
It's their last year of high school. Their last prom, last year walking through the hallways they grew up in, last time seeing their teachers and friends together.
Most seniors are missing out on these "lasts" due to the Coronavirus outbreak. So Jennifer Powell, the director of Tyrone library, and Tyrone Mayor Bill Latchford, have both decided to organize special public recognition for Tyrone seniors.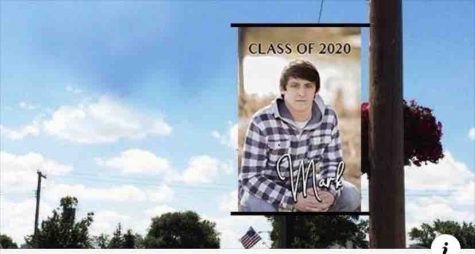 "In thinking back to my own class yearbooks, I was reminded of how the pictures are laid on the page. That image reminded me of our library's window panes. I thought, why not create a display on the windows that people driving by could see and recognize this group of young people who were forced to give up so much," said Powell.
The Tyrone Library currently has 36 pictures of Tyrone seniors and one picture of a Juniata College senior from Tyrone hanging in its windows.
"We have all had to give up a lot during this time. Dinners with extended family, parties, concerts, etc., but the class of 2020 has had to give up a rite of passage. They are missing prom, graduation, and the other rites of senior year that no other class has had to ever miss. So much of high school is building towards the day you get to walk across that stage and head off into the world as a young adult," said Powell.
In an effort to get the message across to all the Tyrone seniors, Powell posted the message on the Tyrone Library Facebook page and contacted the school's superintendent.
Powell's post then started getting shared by parents in the school district and Powell started receiving senior pictures in her in-box.
There is still plenty of window space and library is still accepting senior pictures. Students and parents can email them to me at [email protected] or message them on Facebook @tyronelibrary.
"The class of 2020 will be quietly heading out into an uncertain and changed world brought on by this global pandemic. I know that it is not easy to have lost these last moments of high school and college. However, I truly believe that the sacrifices your class has had to make will ultimately make you stronger and more resilient members of the community. Please know that your entire community recognizes the sacrifices you have had to make, we recognize your achievements, and we are truly proud of you. Congratulations class of 2020!" said Powell.
Tyrone Mayor Bill Latchford also started a Go Fund Me campaign to raise money to purchase and install Tyrone 2020 graduate banners around town. The Go Fund Me campaign has met its goal with $3,850 raised.
"
why not create a display on the windows that people driving by could see and recognize this group of young people who were forced to give up so much"
— Jennifer Powell
The banners will be 24 X 36 inches and are approximately $20 – $23 each. They will be on display for a to be determined amount of time and then given to the families of the Class of 2020 seniors when taken down.
"The idea of senior banners downtown was brought to my attention by Rhonda Dillon. I read into the story she sent me and I felt that it was a very worthwhile project. I wanted the Seniors to know all of Tyrone is proud of their accomplishments and I thought it would be great to show it," said Latchford.
The Tyrone Eagle Yearbook provided the senior photos and Walk's Photography is designing the banners. They will be hung as soon as possible.
About the Contributor
Hailey Vanish, staff writer
Hailey Vanish is a sophomore this year at Tyrone High School and it is her second year of Eagle Eye. Throughout the year, you can find her playing soccer...