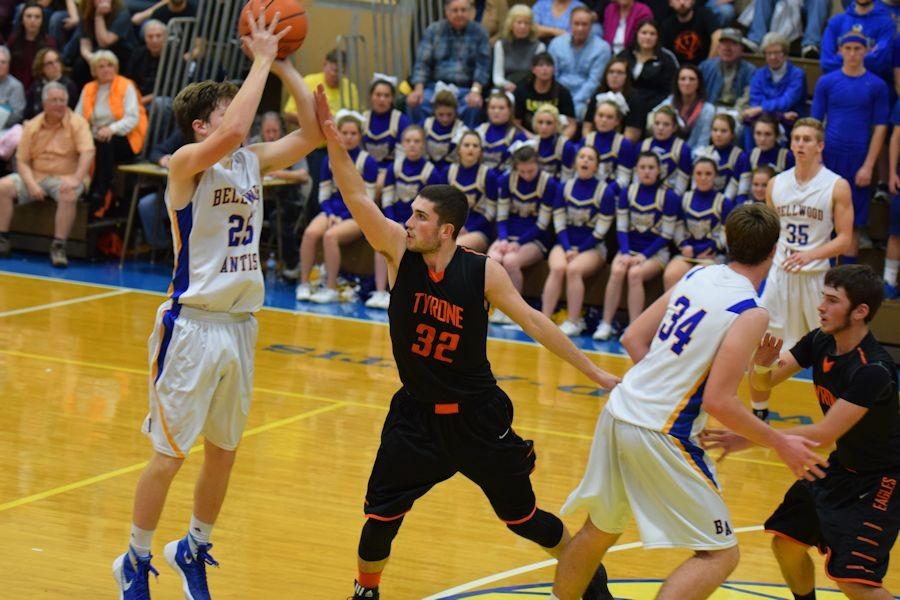 Jamal Hicks
Playing at Bald Eagle is never easy for the Golden Eagles but the Tyrone boys were able to weather several storms to win 77-72 in overtime.
It was quite a back and forth game for the Eagles.  They were up by 10 at one point, down by 8 at another.
Bald Eagle's Trey Butterworth had a game-high 30 points to lead Bald Eagle Area.  Anthony Politiza led the Eagles with 24.
"We were very fortunate to come out on top tonight. Bald Eagle has some kids that are capable of winning some games," said Head Coach George Gripp.
Tyrone had a balanced scoring attack with six players scoring from 5 to 8 points in the first half. At halftime Tyrone went into the locker room up by six, 40-34.
Both teams came out firing on all cylinders in the second half. The game went back and forth throughout the fourth quarter with Tyrone being down or tied most of the time.
It came down to a handful of ticks on the clock. Down by two and Tyrone's very own Zack Soellner hit a lay-up in traffic. And a missed shot by Bald Eagle that sent the game into overtime 67-67.
"Just win baby," Said Soellner.
The Golden Eagles big man Anthony Politza was in full control the whole game. Nine of his 24 points came from buckets down low and he scored six from the foul line. Politza was also a force to be reckoned with defensively for Tyrone.
"I'm just happy we pulled out the win, that gym is a tough place to play and they have some great players. We need to focus more on imposing our will on teams and not playing down to the opponent if we want to keep playing in late February," Said Politza.
Some might was that game was everything but pretty, but a win is a win and Tyrone moves to 13-5 on the season.
The Golden Eagles next game is tonight, Friday, February 5th at Penns Valley. Tip-off is at 7:30.
BOX SCORE
TYRONE (77): Soellner 4 1-2 10, Mitchell 5 5-7 16, Meredith 3 4-8 11, Weaver 2 0-0 5, Lewis 1 1-2 3, Thomas 3 0-0 8, Politza 9 6-13 24. Totals – 27 17-32 77 .
BALD EAGLE AREA (72): Butterworth 11 7-10 30, Barnyak 3 0-0 6, Under 9 2-2 21, Chambers 3 2-2 9, Friedline 2 0-0 4, Hilderbrand 1 0-0 2. Totals – 29 11-14 72.
SCORE BY QUARTERS
Tyrone: 25 15 11 16 10 – 77
Bald Eagle Area: 15 19 21 12 5 – 72
3-point goals: Tyrone 6 (Soellner, Mitchell, Meredith, Weaver, Thomas 2); Bald Eagle Area 3 (Butterworth, Under, Chambers).
Records: Tyrone (13-5 overall, 9-2 ML); Bald Eagle Area (4-16 overall, 3-9 ML).
JV: Tyrone, 52-37. High scorers-Anderson, T, 15; Jones, BEA, 10.