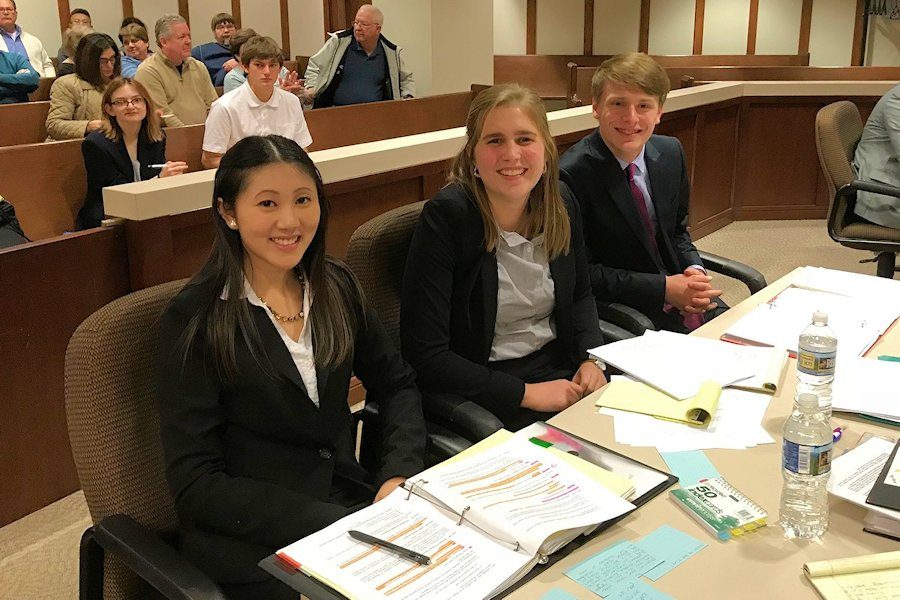 The Tyrone Mock Trial A-Team landed a win over Richland, beating the Cambria County school by a 12.5 point average over four ballots, on Monday, January 29 at the Blair County Courthouse in Hollidaysburg. Sophomore Brent McNeel and junior Brandon Escala left with the Best Attorney and Best Witness awards, respectively.
"I'm so proud of the hard work everyone put in. I am humbled by the selection of the Best Attorney Award. It was a great victory for the team," said sophomore attorney Brent McNeel.
"It feels good to have my work recognized," said junior witness Brandon Escala.
The team argued in favor of the plaintiff, Silva Morel, against his former employer Tiger Tail Technologies for the fourth time.
"I couldn't be more happy with how the trial went. We all worked so and it makes me so proud to see that it paid off," said senior attorney Molly Harris.
The beginning of the season was spent in Pittsburgh where the team earned a 2-2 record. Then after some revisions, at the annual Penn State Invitational, the team went 7-1 tieing team Central B for 2nd place, falling to 3rd based on strength of schedule.
"We have done extremely well this season, but, if we want to go far in this tournament, we are definitely going to make some improvements… Overall, everyone needs to get better at thinking on their feet," said Senior Attorney Chloe Makdad.
Now 1-0 in their regular season, the Tyrone A team is looking ahead to their defense case against Forest Hills on February 19th.
"If our team stays focused and continues to improve as they have all season long, I think we will go far in the competition.  I am really proud of what they have accomplished so far," said Mock Trial A Team Advisor Todd Cammarata.