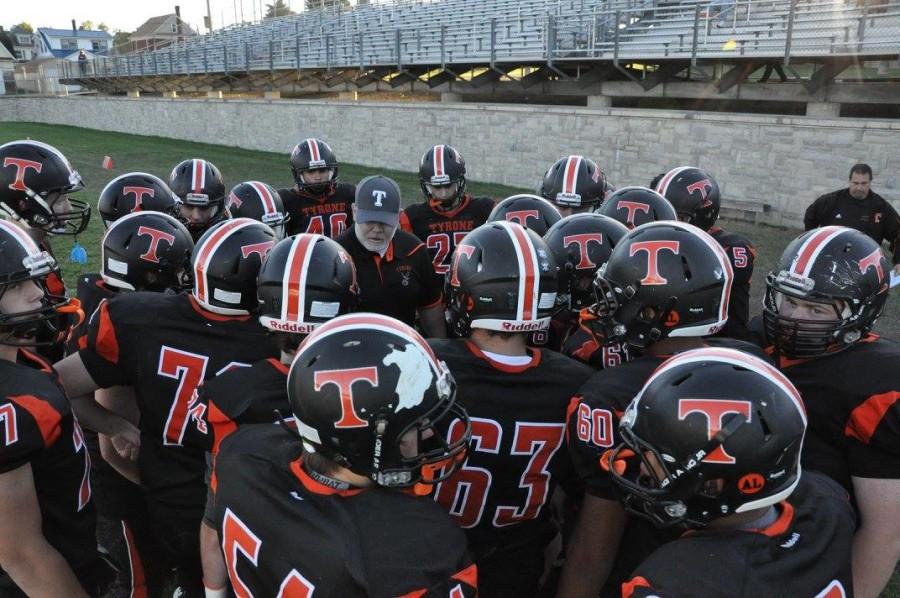 Terry McCaulley
Tyrone's JV had another tough game against Bellefonte Red Raiders, losing 12-8.  
This was a defensive game from the first snap to the last. Tyrone's defense was able to stop Bellefonte a good portion of the game but failed when they really needed it.
Bellefonte was able to score two times in the first half to make it 12-0.
After giving up 12 in the first half Tyrone's defense stepped it up and didn't let  Bellefonte score in the second half. Bellefonte had many long drives but thanks to a bend-but-not-break Tyrone defense the Red Raiders were unable to score.
Tyrone's offense started off slow but in the second half things picked up as well.
RaShawn Hicks took a hand off at the Bellefonte 20 yard line and made all the right moves to get into the end zone. After the score quarterback Kyle Plummer completed a pass to Brett Robinson for a two point conversion. Leaving the final score to Bellefonte's favor 12-8.
In the game, Tyrone was short several regular JV starters.  Sophomore Jake Meredith could not play due to sickness, and freshman quarterback Denver Light was unavailable due to injury.
RaShawn Hicks and Kyle Plummer shared duties at quarterback, Kyle Plummer, Grayson Putt and RaShawn Hicks all took snaps at running back and fullback,  and Jamal Hicks and Brett Robinson were the go to receivers.
The Golden Eagle JV squad is now 1-4 on the season.