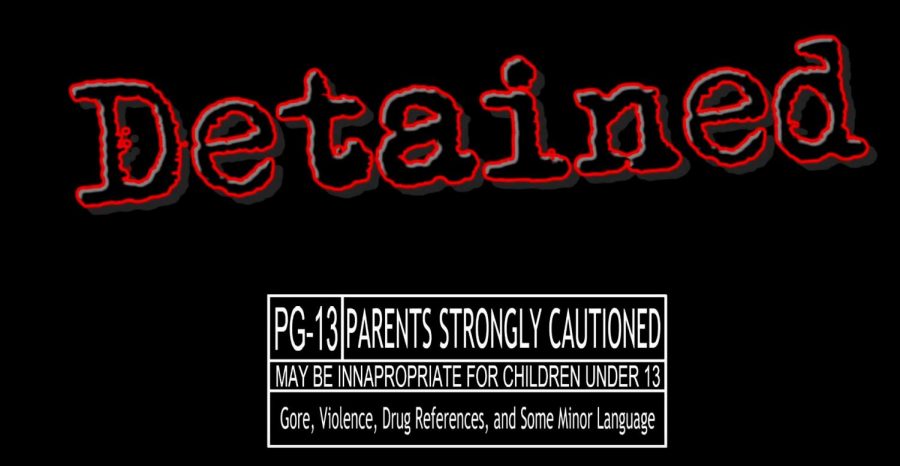 With a little help from his friends, Tyrone junior Jeremy Byers has released his first self-produced movie, Detained.
Byers has always been interested in film and creating his own video content. He has his own YouTube channel, Jeremy Byers, where he posts short films with his friends, and delivers entertaining commentary.
But last summer he decided to take on a much larger project, a full length movie.
"I've wanted to make a film ever since I was really young, and I decided after my years of [producing] content on YouTube that I was ready for a bigger challenge," said Byers.
Byers wrote the screenplay himself and started filming in August 2018. He assembled his cast by asking a few of his friends to help him. The star of Detained is Jake Orr.  The supporting cast includes Byers himself, along with fellow Tyrone students Caleb Orr and Caden Brooks.
The movie's plot begins after the death of Wesley Slater. The police reported that Slater had drowned. Unconvinced by the police report, four friends decide to form their own investigation. What they find is shocking. They come up with enough evidence to support that he was murdered. They come up with a plan to find the suspect they enter the nearby woods where Wesley was killed, and end up fighting for their lives to escape.
"Me and Jeremy are best friends so I sorta got forced into it," said Orr.
The film took four months to film and edit. The final version was released on December 7, 2018.
According to Byers, the feedback on the film has been mostly positive, with only a small number of people having negative things to say about it.
Byers created a poll to rate the film, and so far the average rating is 8.2/10.
There were a few things that the cast thought could have been better, including some acting mistakes, editing errors, and definitely the redundant ten minute dialogue scene about halfway through the film.
Even after the cast admitted to these errors, many people who watched Detained are hoping for a sequel as this film ended with a cliffhanger.
But Detained fans will have to wait for that, at least for now, because Byers has already started a new film, a comedy that will come out later this year.
Detained is available for purchase from Byers for $7.  To order a copy click HERE.