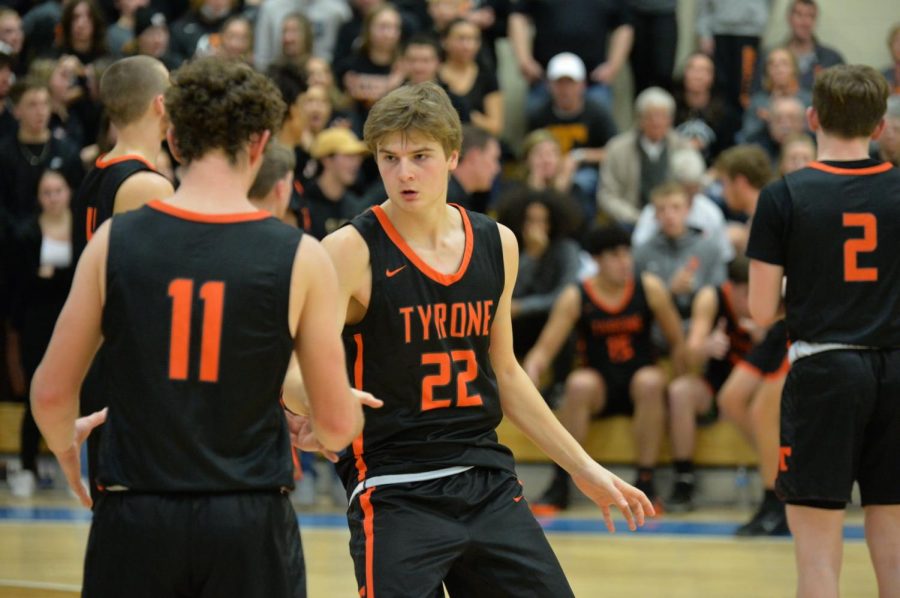 Terry McCualley
After a slow start, Tyrone came out on top of Philipsburg-Osceola 54-45 on the road Tuesday.
Tyrone had three seniors in double digits against the Mounties; David Lang with 15, Landen DeHaas with 13, and Keegan Gwinn with 12.
Junior Ross Gampe started the game attacking the hoop, scoring Tyrone's first 6 points. Gampe was a presence inside throughout the game and grabbed many boards.
After a lot of back and forth action, Tyrone ended the 1st quarter with a 4 point lead, 12-8.
In the second quarter, senior David Lang hit back-to-back threes to propel the Eagles. Unfortunately, he picked up his third foul and was forced to sit the remainder of the quarter. Philipsburg outscored Tyrone and went into halftime only down 2 to the Eagles.
After halftime, Tyrone dominated the boards, limited second-chance opportunities, and optimized scoring opportunities by attacking the hoop. Keegan Gwinn scored the majority of his 12 points in the second half, allowing for the Eagles to have a comfortable lead over the Mounties.
The Eagles were able to maintain their lead over Philipsburg by holding them to 5 points in the 4th quarter.
"It was a good team win against a Mountain League opponent. It feels good to get a win, especially during an away game," said Ross Gampe.
Tyrone improved their record to 5-1 on the season.  The boys will be back in action on December 28 and December 30 in the Tyrone High School Gym for the Kiwanis Christmas Tournament.
BOX SCORE
TYRONE (54): Lang 4 4-5 15, Rhoades 1 2-2 4, DeHaas 5 2-3 13, Gampe 4 0-0 8, LeGars 0 0-0 0, Gwinn 6 0-0 12, Johnson 1 0-1 2, Ronan 0 0-0 0. Totals–21 8-11 54.
PHILIPSBURG-OSCEOLA (45): Harpster 1 0-0 2, Johnson 3 0-0 6, Doyle 1 1-2 3, DeSimone 6 2-2 17, Whitehead 6 0-0 15, Matson 1 0-0 2. Totals–18 3-4 45.
SCORE BY QUARTERS
Tyrone 12 10 19 13 — 54
Philipsburg-Osceola 8 12 14 5 — 45
3-point goals: Tyrone 4 (DeHaas, Lang 3); Philipsburg-Osceola 6 (DeSimone 3, Whitehead 3)