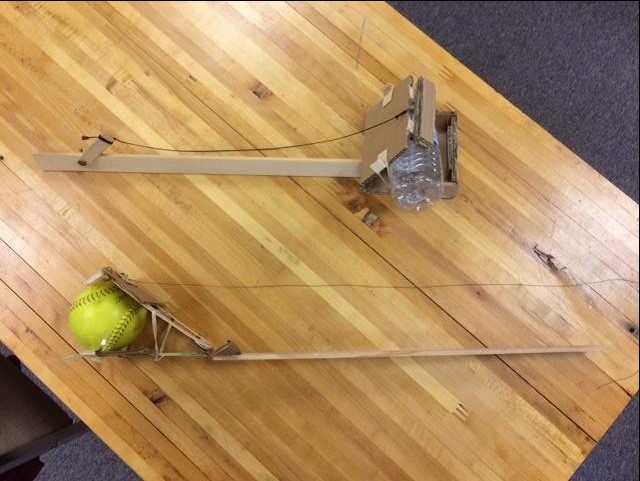 Photo courtesy of Chris Shedd
This year the Tyrone High School math department offered several new Science, Technology, Engineering and Math (STEM) activities in their classrooms to provide students with a more hands on experience than they are used to in everyday math.
Math and science teachers are participating in STEM focused lessons based on training that they received recently from the Carnegie STEM Initiative through Appalachian Intermediate Unit 8.
High School math teacher Chris Shedd's Algebra 2 class designed and built extension devices to help them increase their reach by 18 inches (see photo above).
The devices had to have the ability to pick up objects, move them from container to container, and drop them.
"This was a chance for the students to work on a real-world problem involving physics, math, engineering," said Shedd, "[It] got the students into a different setting and gave them the opportunity to problem-solve."
According to Shedd the project went well and he is open to doing it again in the future.
"It had some kinks that I will work out before trying it in the future. There are lots of unknowns in trying a project for the first time," said Shedd,"I will need to refine some of the guidelines and be more specific about the timeline and expectations of the process. More emphasis on research and design aspects of the project."
Another STEM activity was done in Chelsey Markel's Honors Geometry class.
In Markel's class, students had to create a picture using nothing but triangles. They first had to research ways to draw triangles with a ruler and protractor to make them congruent then they had to write a 1-2 page paper describing their art and how triangles are used in the real world.
Markel thinks that the students enjoyed the project.
"Some students worked very hard and made their art pieces very colorful and exciting," said Markel.  She is planning on adding on to the project and polish it up for next year as well.
In Tiffany Smith's math classes, students used the math website DESMOS.com to create holiday themed images around Christmas time using nothing but functions they had discussed up until that point.
"Students did much of the learning and designing on their own," said Smith, "I would help point them in the right direction if needed but it was their job to design the creation and research how to get the image to move and translate the way they wanted to."
These projects turned out well and the students went above and beyond with this project. The students really appreciated the project as well, asking to do a similar type project near the end of the year.
Another STEM project occurred in Michele Marasco's Honors PreCalculus class. In this project, students had to do use DESMOS.com to create a New Year's scene. Some of the students used more than 100 questions to make their scene a reality, going above and beyond to detail them.
"Students had to use their knowledge of a variety of types of graphs to create intricate pieces of their scenes," said Marasco, "They had to understand the visual aspect of the graphs. In addition, they used endpoints to only display a small part of each equation."
The students seemed to enjoy the activity as well and seeing how their end product was going to turn out.
Jane Bugden's Trigonometry classes created clinometers and measured immeasurable objects.
"Students combined hands-on science with technology including use of CANVAS, videos, protractors, compasses, clinometers and powerpoint presentations," said Bugden.
This project brought together the right triangle trigonometry that they had been studying in class at the time. The students seemed to enjoy this activity as well, enjoying the hands on nature of the project, even going outside to measure tall objects using the clinometer.
STEM is an important educational initiative within the state and across the United Stares.  Beginning with the math and science departments, the initiative will reach every part of the curriculum within the next several years.