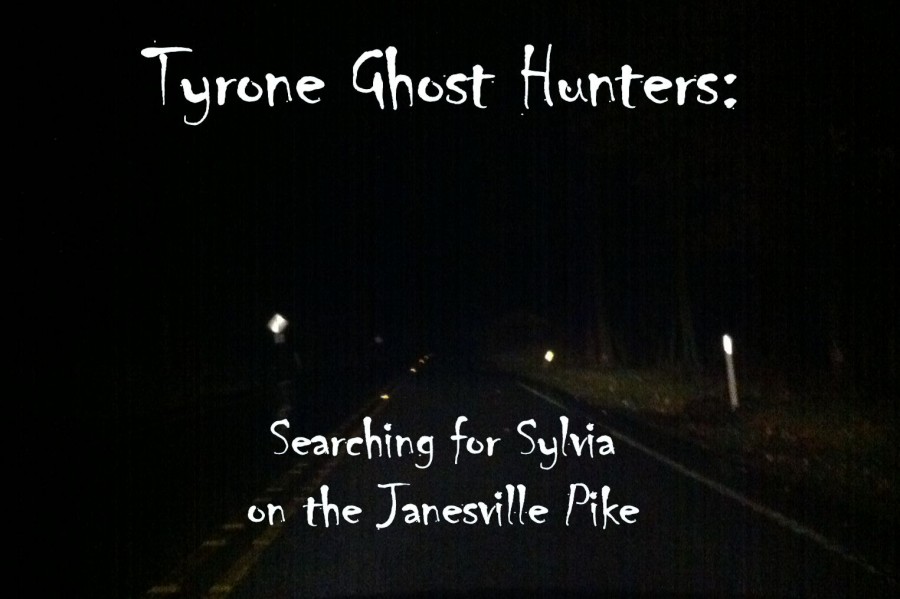 Ohhhh Sylvia!
The Tyrone Ghost Hunters' next stop is on our very own Janesville Pike.
According to local legend, Sylvia was a newlywed bride from Tyrone.  Immediately after their wedding, she and her new husband were driving on the Janesville Pike  when her husband lost control of their vehicle.  Their car wrecked.  Sylvia was decapitated in the accident and her husband's body, strangely, was never found.
Today legend has it that if you follow a few simple directions, you may get a chance to see Sylvia's ghost still walking the Pike in her wedding gown.
Drive about nine miles up the Janesville Pike at night.  You will first see a few memorials to others killed on the pike.  Just past those memorials, blink your lights on and off eight times.
Other versions of the Sylvia story claim that you need to stop your car at the top of the pike and call out Sylvia's name three times.
Either way, if you're (un)lucky enough, you might just see Sylvia in her bloodied wedding dress still searching the ditches along the pike for her missing husband's corpse.
"I have only gone Sylvia hunting once.  When I did I felt the wind pick up. I felt a presence with me and my friends." said Tyrone junior Zach Soellner, "I'm not saying Sylvia's ghost is real, but there's definitely something unsettling about the Pike."
The Janesville Pike is extremely creepy. There have been well over thirty fatal automobile accidents on the Janesville Pike. It is a notorious place for car accidents, in any kind of weather.  Considering how deadly this road has been, the Pike itself could hold other ghosts that we don't even know about.
"I was riding in the car going up the Pike when all of a sudden My friend Ryan lost control of the car and we went broadside," said Tyrone junior Cassie Davis.
Some people think Sylvia might be a very angry ghost but in reality, she's just a deceased bride looking for her husband's body.
"The Pike is extreme," said Tyrone senior Dillon Lego, "I have been up the pike a few times this past year and I can think is how friggin crazy would it be if all of a sudden I saw a six-foot silhouette walking across the road." "I once was at the very top of the Janesville Pike and I saw a man, all dressed in black. Within twenty minutes I got into town and saw the exact same man."
Sylvia may never be declared a real ghost. But the Janesville Pike definitely has a supernatural aspect about it.