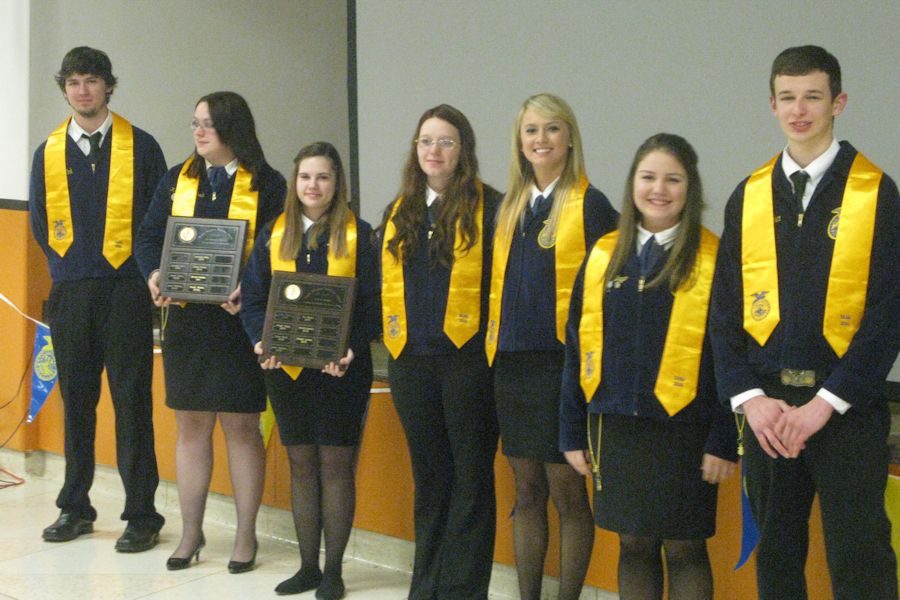 Tyrone Area FFA members and their friends and family gathered to dine, share stories, and celebrate awards and recognition at the 78th Tyrone Area FFA Chapter Banquet on April 7, 2016.  Approximately 200 members, alumni, parents, guests and supporters attended the event in the high school cafeteria.
A highlight of the evening was when FFA members Jacey Whitcomb, Ben Weaver, Chandler Carper, Chloe Case, Taylor Pighett, Zach Patterson, and Destiny Sullivan all received their iconic FFA Jackets.
Pennsylvania Deputy Secretary of Agriculture Hannah Smith-Brubaker brought greetings from the PA Department of Agriculture. Representative Judy Ward spoke about the positive impact Agricultural Education students have on our community. State FFA Association Treasurer, Beth Winklosky, also shared her story of starting in FFA and how it has impacted her life.
Many FFA members received awards for their hard work and dedication: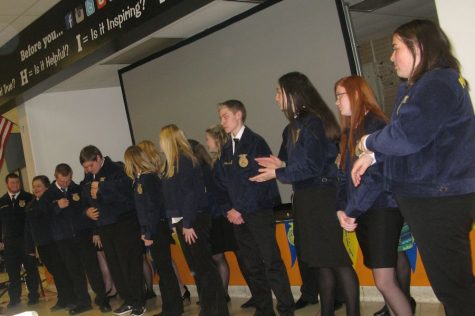 Parliamentary Procedure – students learn meeting rules for government and discussion
Silver Pins: Jacob Meyer (Chairperson), Toni Burns, Brandon Decker, Katrina Hagenbuch, Sarah Wilson, and Emily Long.
State Horse Judging – students evaluate and rank horses based on their breed, characteristics, conformation and performance.
Silver Pin: Baylee Delbaggio
Job Interview – students submit a resume, complete job applications and participate in mock job interviews with a panel of possible employers.
Bronze Pins: Jacob Meyer and Kaitland Lynch
Silver Pin: Katrina Hagenbuch 
Huntingdon County Fair Awards
Tractor Driving – Daniel Peterson
Dairy Beef – Katrina Hagenbuch, Elizabeth Conrad, and David Conrad
Dairy Show – Elizabeth Conrad
Rabbits and Cavies, Rabbit Showmanship Winner – Samantha Sessamen
Katrina Hagenbuch – Best in Show for Johnson Hall
Blair County Conservation Land Judging Contest – serves as a tool to teach youth and adults about the field of soil science and the use and management of soils.
Bronze Pins: sophomores Sierra Robison, Hunter Reese,Skyler Thompson, and Daniel Peterson; Junior: Michael Cherry; Seniors: Carly Crofcheck, Katrina Hagenbuch, and Baylee DelBaggio.
AgriScience Project Awards (Bronze Pins):
Seniors: Elizabeth Conrad, Mikayla Diebold, Emily Long, Alexa Beck,Carly Crofcheck, Stephanie Cruis, Brandon Decker, Baylee DelBaggio, Alexis Brode, Dakota Fink, Katrina Hagenbuch, Larry Kobuck, Aaron Lewis, Desiree Sparks, and Sarah Wilson
Juniors: Charles Beard, Zane Albright, Gage Light, Olivia McCaslin, Madison Branstetter, Toni Burns, Chloe Case, Michael Cherry, Kara Weyant, Matthew Fink, Aaron Brown,  Tiffanie Teeters, Destiny Sullivan, and Maddie Veit
Sophomores: Rayann Borman, Chase Burke, Alexis Cowfer, Molly Fadgen, Sarah Goldenbaum, Brittney Williams, Umeeka Marlett, Hunter Reese, Skyler Thompson, Sierra Robison, Alexis Williams, Jaylon Beck, David Conrad, Grace Gensimore, Corey Hoff, Jamie Lynch, Makayla McCloskey, Daniel Peterson, Zach Patterson, and Katelyn Richards
Freshmen:  Isaac Woomer, Anna Beck, Noah Irvin, Taylor Pighetti, Devin Phillips, Ben Weaver, Reilly Ronan, Olivia Barr,  Jacey Whitcomb,  and MaKenna LaRosa
State AgriScience State Competition:
Food Products & Processing Category; Silver pin – Carly Crofcheck, Madison Branstetter, and Sarah Wilson
Plants Category; Silver pin – David Conrad; Gold pin – Baylee DelBaggio and Aleix Brode
Power, Structural and Technology Category; Silver pin – Brandon Decker; Gold pin – Jacey Whitcomb, MaKenna LaRosa, Daniel Peterson, and Zach Patterson
Animal Category; Silver pin – Taylor Pighetti, Desiree Sparks; Gold pin – Jaylon Beck, Mariah Simondale, Makayla McClosky, and Alexa Beck
Environmental Category; Silver pin – Michael Cherry, Dakota Fink, Grace Gensimore, Katelyn Richards
Social Science Category; Silver pin – Jamie Lynch and Katrina Hagenbuch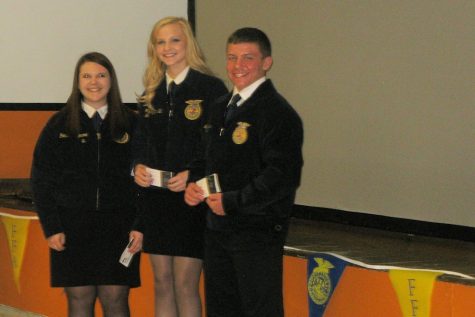 PA Farm Show Livestock Show:
Gold Pin – Maddie Veit for sheep showmanship
Proficiency Award:
Gold Pin – Carly Crofcheck (Integrated Research Processes in Natural Resources and Ecology), and Katrina Hagenbuch (Diversified Livestock)
FFA Creed:
Bronze Pins – Olivia Barr and Noah Irvin
Senior Prepared Public Speaking
Bronze Pins – Mariah Simondale, Maddie Veit, Madison Branstetter
Extemporaneous Public Speaking
Silver pin – Katrina Hagenbuch
Agricultural Education CTE Student of the Month Pins for 2015-2016
September – Olivia Barr
October – Noah Irvin  
November – Aaron Lewis
December – Jacey Whitcomb
January – Zachary Patterson
February – Chloe Case
March – Chandler Carper
April – Destiny Sullivan
Greenhand FFA Degree Pins:
Olivia Barr, Chandler Carper, Noah Irvin, MaKenna LaRosa, Zach Patterson, Taylor Pighetti, Devin Phillips, Reilly Ronan, Sydney Shaw, Destiny Sullivan, Skyler Thompson, Jacey Whitcomb, and Isaac Woomer.
Chapter FFA Degree Pins:
Alexis Brode, Toni Burns, David Conrad, Grace Gensimore, Jacob Meyer, Daniel Peterson, Maddie Veit
Star Greenhand Award
Noah Irvin
Star Farmer Award
Maddie Veit
Star AgriScience Award
Grace Gensimore
Beef Quality Assurance Certificates (BQA):
Umeeka Marlett, Tiffanie Teeters, Brittney Williams, Chloe Case, Sarah Goldenbaum, Dakota Fink, Michael Cherry, Skyler Thompson, Alex Murray, Corey Hoff, Grace Gensimore, Michael Shawley, Zach Patterson, Shelby Sorrick, Sierra Robison, Daniel Peterson, and Destiny Sullivan.
Top Sales Person Pins:
Fruit Sale – Skyler Thompson
Jerky Sale – Charles Beard
Strawberry Sale – Makenna LaRosa
Completers and Concentrators for Production Agriculture (NOCTI testers):
Graduation Sash – Dakota Fink, Alexis Brode, Carly Crofcheck, Baylee DelBaggio, Katrina Hagenbuch, Larry Kobuck, Elizabeth Conrad, Brandon Decker, and Emily Long.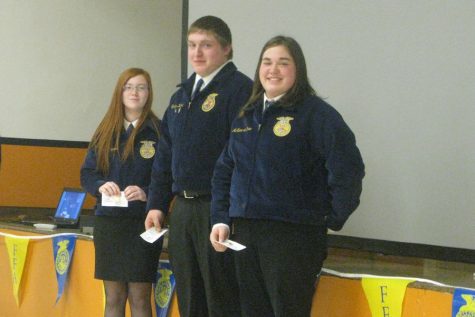 Angie Romano Memorial Award for Love and Respect of Animals
Alexis Brode
Denise Shawver Memorial Award for Dedication, Loyalty, and Pursuit of Excellence
Katrina Hagenbuch
Committee Chair and Co-Chair Awards:
Leadership Conferences – Carly Crofcheck
Ag Book Club – Jamie Lynch and Maddie Branstetter
CDE Trainings – Brittney Williams
Speaker Series – Kara Weyant
Travel Scholarship – Baylee DelBaggio
SAE's – Olivia McCaslin
National FFA Week – Katelyn Richards
Fruit Sale – Grace Gensimore
Jerky Sale – Domanic Steele and Destiny Sullivan
Banquet – Alexa Beck
Community Connection – Daniel Peterson
Ham 2 Bank – Destiny Sullivan & Tiffanie Teeters
Barrel Up and Conservation – Michael Cherry
Backpack Program  – Noah Irvin
Living to Serve – Corey Hoff
Ag In the Classroom – Skyler Thompson and Kara Weyant
Mobile Ag Lab – Devin Phillips
Environmental Excitement – Larry Kobuck
Retiring Officer Awards:
Sentinel – Daniel Peterson
Reporter – Mariah Simondale
Treasurer – Katrina Hagenbuch
Secretary – Madalynn Veit
Vice President – Baylee Delbaggio
President – Brandon Decker
The evening ended with the officers inviting all ag education students, families, alumni and their families and supporters to attend a bowling social on Saturday, May 21 at Splinters Bowling Facility from 4-5 PM.
"These are amazing students, families, alumnus, and supporters.  I'm honored and privileged to be working in a school district and community who believes in our program.  I'm just here to guide the students, they are the ones taking the opportunities and working hard to accomplish great tasks.  I cannot wait to see what the next year brings," concluded Tiffany Hoy, Ag Teacher and FFA Advisor.