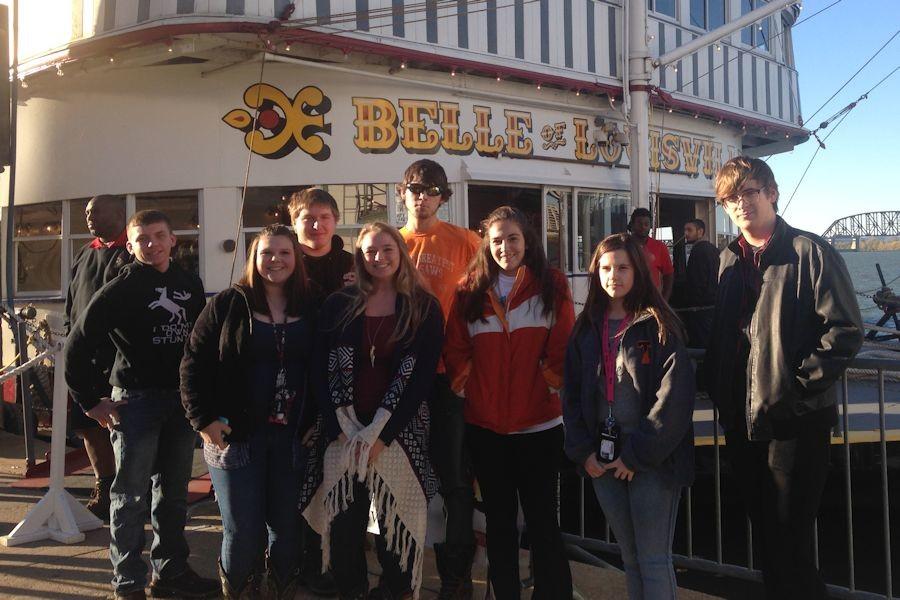 Eight members of the Tyrone FFA and adviser Mrs. Tiffany Hoy traveled to Louisville, Kentucky from October 27-30 to the National FFA Conference.   They joined over 60,000 other FFA members and visitors at one of the largest high school conventions in the country.
"It was amazing to go down and see a portion of how many FFA members there are. I enjoyed getting to meet new people and getting to see people that are from all over the country," said Tyrone senior Alexis Brode.
The group departed Tyrone on Tuesday at 5:45 am for the long journey to Louisville, Kentucky.  Tuesday consisted of more than twelve hours on the road. When the chapter reached Ohio, they stopped to visit the National Museum of the United States Air Force. There they saw aircraft from throughout the history of aviation. There were displays of military aircraft from both World Wars, famous bombs, and other historically significant airplanes.
After the museum, the students were back on the road and made it to their hotel on Tuesday night.
On Wednesday FFA Chapters from all over the United States gathered at the Kentucky Exposition Center (KEC), where various workshops were held throughout the day.
Mrs. Hoy took the students to one of the keynote convention sessions. The event included a laser show, a national band and chorus grand entry, and speeches by the National FFA Officers.  Rick Rigsby, a nationally known motivational speaker, spoke to the FFA chapters during the session (see video).
That evening the students were off to one of the convention highlights, a Jake Owens concert, opened by country artists Maddie and Tae.
On Thursday the Tyrone FFA Chapter again attend events at the Kentucky Exposition Center.
One of the highlights of the final day of the convention was a dinner cruise on the Ohio River on board Belle of Louisville. The cruise included dinner and a dance. Country music and a few line dances played a big role in making this cruise enjoyable.
On Friday the group visited two major tourist attractions in the Louisville area; the Louisville Slugger Museum and the Kentucky Derby Museum.
At the Lousiville Slugger museum the group learned how the famous Louisville Slugger bats are made.  Each FFA member received a mini Louisville Slugger bat as a souvenir.  At the Kentucky Derby Museum, famous racehorse statues were displayed, along with a movie about how a racehorses are raised. Later in the evening, Mrs. Hoy treated the students to a movie.
After the trip, everyone in attendance agreed that it was a great opportunity to meet people from chapters across the country and share in the FFA experience.
"I am so glad that I got to go to nationals. I made so many fun memories and great experiences there," said senior Jake Meyer.