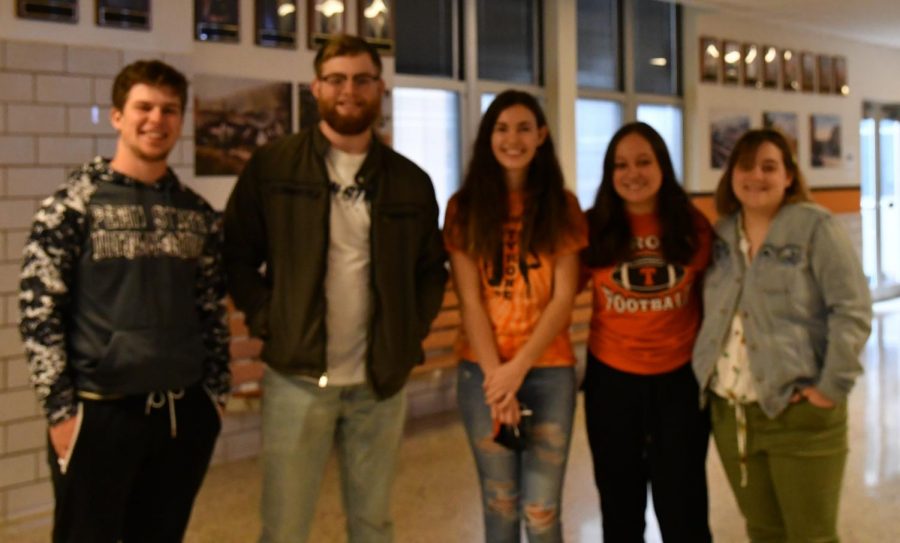 Haydn Loudenslager
Five students from the Tyrone chapter of Future Business Leaders of America (FBLA) tested in the regional competition, and all five placed in the top three of their events and advanced onto states. This is the first year that all members who took the test in the regional conference made it to states.
"This year has been a challenging year with everything being virtual, but my students continued to work hard and exceed my expectations to advance to states," said FBLA advisor Amanda Burega.
FBLA is a club that recognizes and rewards excellence in a broad range of business and career-related areas within high school students.
According to the National FBLA, FBLA is a career student business organization that helps over 230,000 members prepare for careers in business. FBLA competitive events prepare students for successful careers in business by providing opportunities to apply classroom concepts in a workforce-simulated competitive environment.
The five members who qualified for the state conference include seniors Madison Wineland, Nick Lewis, and Micheal Buck; and sophomores Hailey Vanish and Mikenzie Weaver.
Wineland is the only returning member of FBLA who placed for the state competition.
"[The thing] I like most about FBLA is the people you meet and the places you can go to. I met two close friends last year at the award ceremony. FBLA isn't for one type of person, there are so many different types of personalities that everyone there brings something different to the table," said Wineland.
Lewis and Buck competed as a team in Sports & Entertainment Management and placed first in the regional competition.
The Sports & Entertainment Management included the following topics: "Sports and Entertainment Marketing/Strategic Marketing; Facility and Event Management; Human Resource Management (Labor Relations); Promotion, Advertising, and Sponsorship for Sports and Entertainment Industry." The goal of Sports & Entertainment Management is to outline an understanding and awareness of sports and entertainment issues within today's society.
Weaver placed third in her competitive event of Introduction to Financial Math.
"I decided to join FBLA this year because Ms. Burega made it seem like a great opportunity that would be fun but also look good for college. I was excited when I made states this year and was actually pretty surprised," said Weaver.
Introduction to Financial Math focused on the ability to solve common financial and business mathematical problems, which is a basic skill required by all prospective business employees. The event provides recognition for FBLA members who have an understanding of basic math functions needed in finance and business.
Vanish and Wineland both took place in the Journalism competitive event. Vanish placed second in the event with Wineland coming in third.
The Journalism competitive event within the FBLA regional chapter recognizes FBLA members who demonstrate knowledge of the basic principles of journalism. The topics covered include: "Basic Journalism Principles; Economics and Business of Journalism; Grammar & Format; Law and Ethics; History of Journalism."
"Making it to states my senior year is probably the best thing that happened so far for me as a senior. When I found out, I couldn't believe it till I had to reread it a couple of times. It was an honor to make it to states with the other members," said Wineland.
For the state part of the competition, all five members will have to take another round of tests virtually and compete against other students who are involved in the same competitive event as them. If a student places high at states, they will move on to compete at the national competition against all students involved in the FBLA organization.
The advisor of FBLA, high school business teacher Amanda Burega, was very proud of all her students' hard work and determination and can't wait to see how everyone does at the state competition.
"With four out of the five students being new members, it is an outstanding achievement to have all five members heading to states. Despite states being virtual this year, I hope my students can learn and grow from this experience" said Burega.