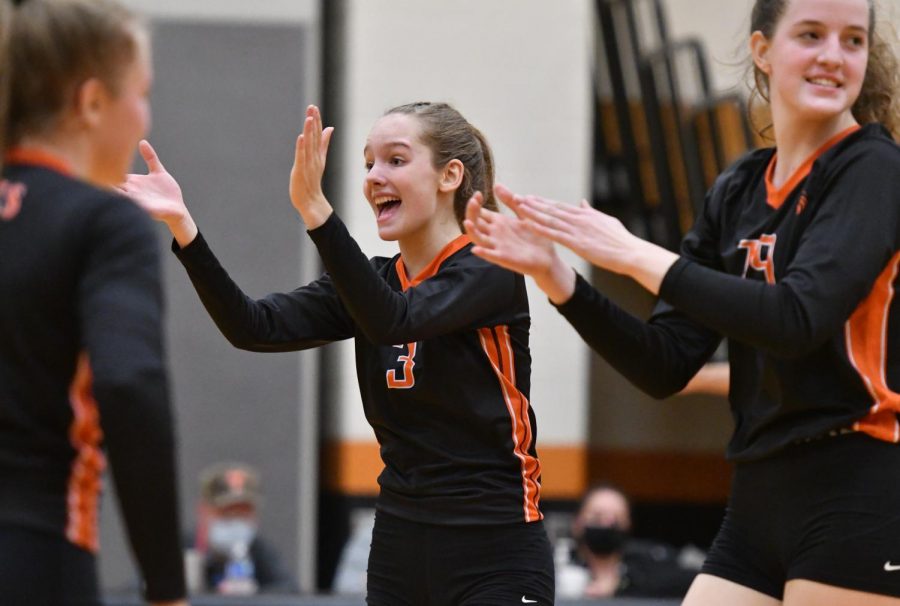 The Lady Eagles lost 3-2 against the Penns Valley's Lady Rams on Tuesday, October 20th in one of the last regular-season games of the 2020 season.
The Lady Eagles had a lineup change in this game with senior Mattie Cherry going back to being the setter with Maecy Tuskovich and Holly Long alternating the libero position.
The first set was a loss for the Lady Eagles. After just changing line ups for the second time, the players needed time to get comfortable, which led to some mistakes. The Rams won 25-19.
The second set was much closer than the first. The Tyrone girls got into a rhythm and began to get a feel for how the other team played. After a tough match, they lost 24-26.
Set three was a success for the Tyrone girls. They picked themselves up and used the other team's line up against them. They hit weaker defenders, blocked lower swings, and overall played well. Because they got a strong lead from the beginning of the set, the other team crumbled. Their strategic playing paid off, and the Eagles won 25-7.
Tyrone repeated what they did in the third set and got a lead at the beginning of the fourth set. The Rams caught on but by the time they did, it was too late because the Eagles had already won.
The last set was full of tension. The coaches argued over a play and the refs had to give Tyrone the serve because of an illegal rotation by the Rams. Players were loud and enthusiastic on both sides, but after a lot of back and forth between points, Penns Valley got the victory, 15-12.
JV Won 2-0. Scores were 25-17 and 25-15. JV is now 13-1.
Varsity lost 2-3. 1st set – 19-25, 2nd set – 24-26, 3rd set – 25-7, 4th set – 25-17, 5th set – 12-15. They are now 6-8.
Stats:
Makenna Bauer – 20 digs, 2 blocks, 13 kills
Reagan Irons – 21 digs, 2 blocks, 2 aces, 14 kills
Courtney Williams – 5 blocks, 14 kills,
Piper Christine – 3 blocks, 6 kills
Holly Long – 15 digs, 2 blocks,
Mattie Cherry – 44 assists, 11 digs, 2 kills