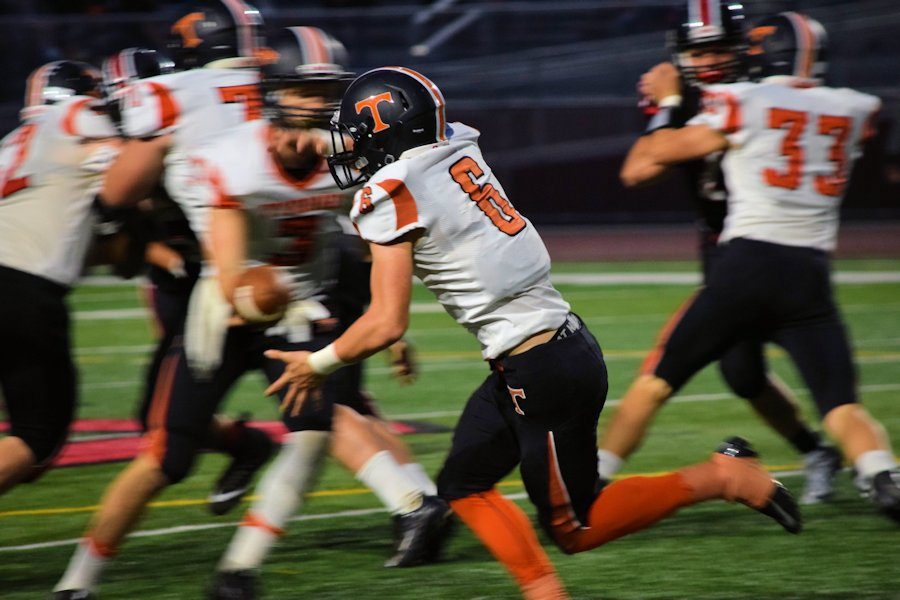 Zack Webster
Despite the lopsided final score, Tyrone really did play well Friday night at Clearfield. They nearly matched Clearfield in total yards and had more total first downs than the Bison. Tyrone ran the ball efficiently but could not finish drives.
Although senior tailback Brandon Loose was averaging a little over five yards per carry, the Tyrone coaching staff elected to pass at questionable times which resulted in three drive killing interceptions. Loose finished the game with 127 yards on 25 carries. Clearfield quarterback Isaac Rumery played a very efficient game only having to throw the ball 10 times but racking up 97 yards and 3 touchdowns on just 7 completions.
"I think the game was a lot closer than the score," Tyrone coach Jason Wilson said. "I think it was a tough game. The turnovers, especially in the red zone, aren't going to help you win a game."
Tyrone would score their only TD late in the game with 6:13 left. Senior Parker Mitchell finished off a long drive with a 1 yard QB sneak. The Bison capitalized on Tyrone's mistakes and did everything right offensively leading to the 35-7 blowout victory. Although, Tyrone played a really good game but got nothing to show for their efforts which can kill the passion of any team. Tyrone however is not afraid of the doubters and is still gearing up for a good playoff run.
"If we want to be a good team, we have to eliminate those mistakes," Wilson said. "Right now, our backs are against the wall. We're going to be fighting to get into the playoffs. This is a game that we were hoping would maybe give us some momentum to get things going."
The Golden Eagles will be traveling to face Hollidaysburg Friday night seeking their first win on the road.
SCORE BY QUARTERS
Tyrone 0 0 0 7 — 7
Clearfield 7 14 7 7 — 35
First quarter
C–Lezzer 5 pass from Rumery (Sorbera kick), 4:29.
Second quarter
C–Bender 1 run (Sorbera kick), 10:19.
C–Heichel 19 pass from Rumery (Sorbera kick), 7:32.
Third quarter
C–Glass 11 pass from Rumery (Sorbera kick), 4:23.
Fourth quarter
T–Mitchell 1 run (Vipond kick), 6:13.
C–Rumery 1 run (Sorbera kick), 2:25.
INDIVIDUAL STATISTICS
RUSHING:
Tyrone–Loose 25-127, Mitchell 13-63, Albright 1-13
Clearfield–Bender 22-170, McGonigal 6-33, Zattoni 1-6, Rumery 6-(-3)
PASSING
Tyrone–Mitchell 6-14-3-103,
Clearfield–Rumery 7-10-0-97.
RECEIVING:
Tyrone–J. Hicks 2-14, Lehman 1-34, Loose 1-29, Leader 1-14, Albright 1-12.
Clearfield–Heichel 2-40, Freeland 2-34, Lezzer 2-12, Glass 1-11.
INTERCEPTIONS:
Tyrone–none
Clearfield–Graham, Heichel, Lynch.
TEAM STATISTICS 
First downs
Tyrone-16
Clearfield-12
Rushes-yards
Tyrone-40-198
Clearfield-36-205
Passing (comp.-att.-int.)
Tyrone-6-15-3
Clearfield-7-10-0
Yards passing
Tyrone-103
Clearfield-97
Total yards
Tyrone-301
Clearfield-302
Fumbles-lost
Tyrone-0-0
Clearfield-1-1
Penalties-yards
Tyrone-2-38.5
Clearfield-2-40.5
Punts-avg.
Tyrone-4-30
Clearfield-3-15