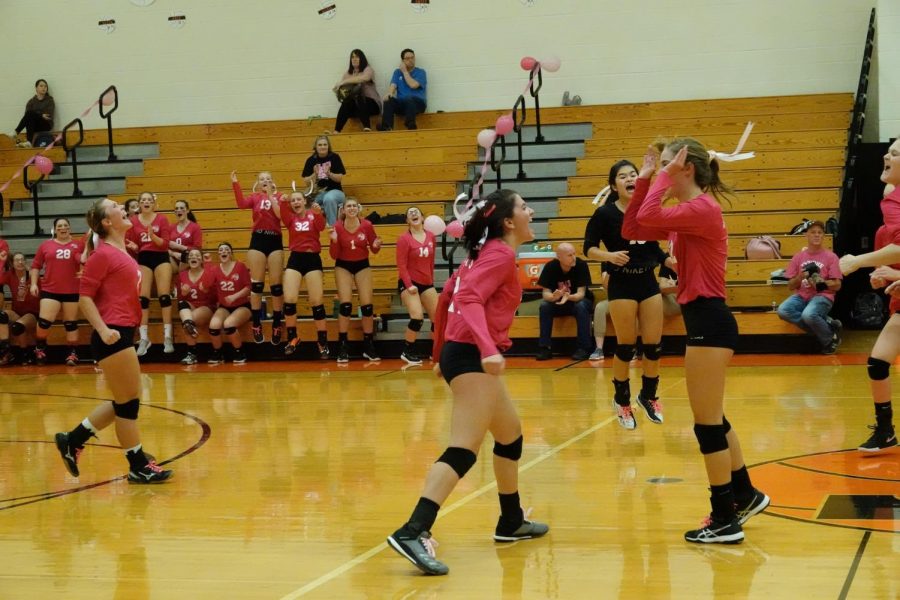 Lucia Isenberg
The Lady Eagles played the Bellefonte Raiders this past Tuesday on the Raiders' home court. The Eagles had an impressive win Thursday against the Penns Valley Rams and were looking to continue their winning streak.
The Lady Eagles had a slow start in the first set with Bellefonte going on a small serving run. Luckily, the Lady Eagles came back with a strong offense and solid defense. Bellefonte continued to battle, but the Lady Eagles didn't let them back in the game. The Eagles took the set 25-18.
The next set had a completely different tone. The Lady Eagles couldn't be stopped from the service line. Freshmen Reagan Irons had several service runs that carried the Eagles through the set. The Lady Eagles took the set 25-8.
The last set carried the same energy. The Lady Eagles' momentum couldn't be stopped.  Junior, Mattie Cherry, had a killer night with 12 service points, 21 assists, 3 aces,and 7 digs. The Eagles kept a relentless lead the entire set, and were even able to put some younger players in. Tasanee Hensley came in and went on a small service run to take the set 25-12. 
"This game proved that the Penns Valley game wasn't a fluke. This team is capable of going into a game, dominating teams, and not letting up. In order to be a great team, we have to do this every game and never let other teams off the hook. Bellefonte was a good sign that we are on the road to becoming a great team," says Senior Bri Foy.
Tyrone beats Bellefonte 3-0. Scores were 25-18, 25-8, 25-12. Tyrone JV wins 2-1. Scores were 20-25, 25-20, 15-12.
Tyrone improved to 9-4 overall and 9-3 in the Mountain League.
Service Points and Stats:
Makenna Bauer – 4 service points, 2 aces, 9 kills
Mattie Cherry – 12 service points, 21 assists, 3 aces, 7 digs
Brianna Foy – 2 service points
Reagan Irons – 9 service points, 10 kills, 1 ace
Ebonee Rice – 8 service points, 6 digs
Tasanee Hensley – 3 service points, 1 ace