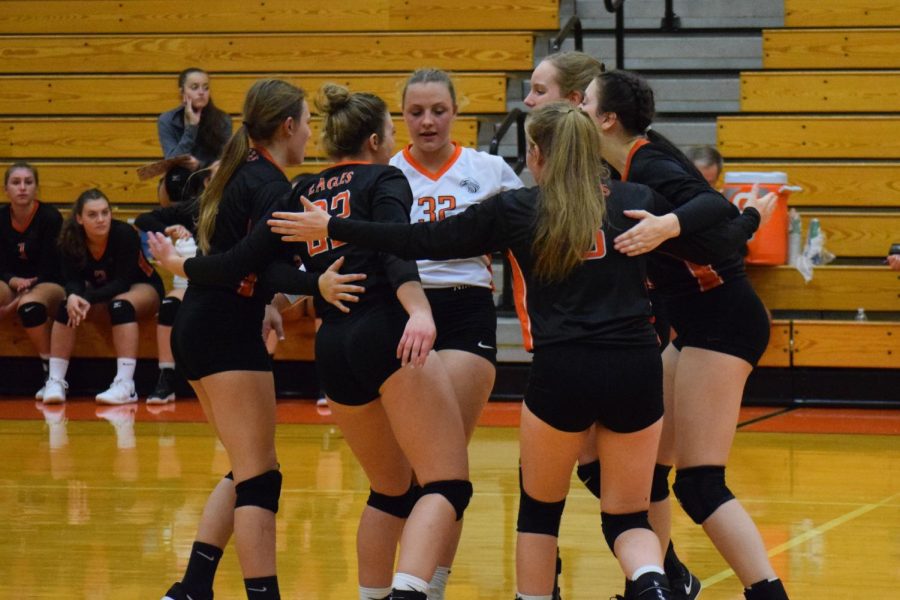 Christian Imler
Tyrone junior Reagan Irons got her 500th career kill as the Lady Eagles swept the Bellefonte Lady Raiders in three sets at home on Tuesday, September 28.
Head Coach Brandi Moyer was extremely pleased with how her team performed.
"I think the energy in the gym and confidence we played with led us to the three-set win. We executed the balls that were given to us and handled the obstacles that we faced. Bellefonte is a great team so getting that win was important and will lead us onto our next match," said Moyer.
Tyrone started strong in the first set, led by Juniors Elaina Gehlman and Reagan Irons. The Lady Eagles took the first set 25-21.
In the second set, the Lady Eagles struggled behind the service line, and the Lady Raiders started to battle back with a stronger, more aggressive defense.
It was a close set, and both teams missed critical end-of-set serves, but Tyrone's offense didn't relent and the Lady Eagles were able to pull through and win 27-25 on an ace served by Gehlman.
While the second set was close, the Lady Eagles dominated during the third set.
Tyrone took an early lead and never let up. Junior Piper Christine was a strong presence at the net and led the offense as Tyrone won the set easily, 25-14.
Irons played exceptionally well, leading all players with 22 kills. The highlight of the match was her 500 career kill, which Irons reached in the second set. Tyrone's Maddy Rockwell led all players with 41 assists.
"I've been playing with this group of girls for years, and I know how much we all want to win so being able to contribute to the team's success really means a lot," Irons said.
Stats:
Elaina Gehlman- 6 kills, 2 aces, 2 blocks
Piper Christine- 12 kills, 3 aces, 4 blocks
Reagan Irons- 22 kills
Maddy Rockwell- 41 assists, 2 kills
Kylee Nelson- 3 aces
Kaitlyn Houck- 9 digs
Maecy Tuskovich- 9 digs
Scores:
JV: 25-17; 25-13
Varsity: 25-21; 27-25; 25-14 9