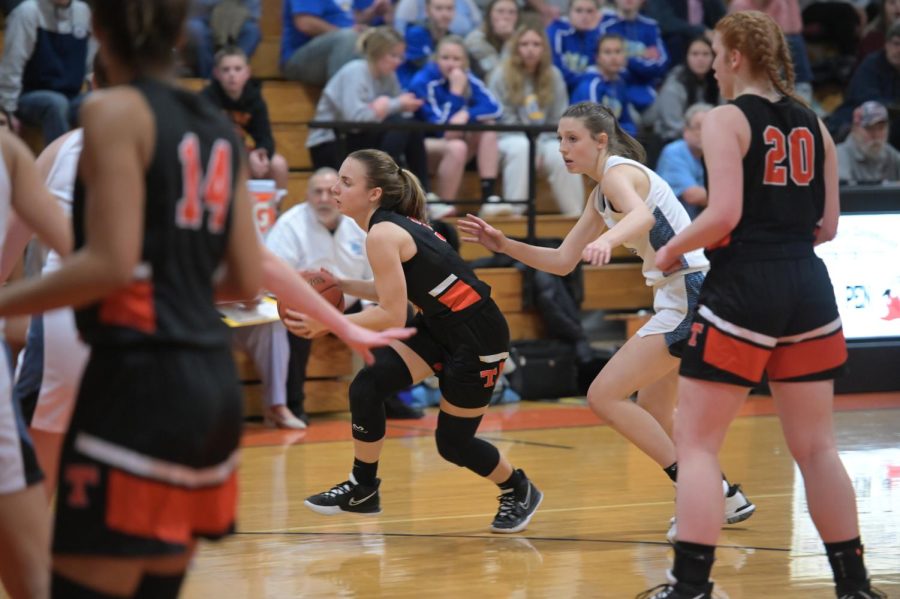 Ellie Oakes
The Lady Eagles were tested on Saturday in a road game against a tough non-conference opponent and came out victorious in a nail-biting overtime win over Northumberland Christian.
The Lady Eagles handed Northumberland only their second loss of the season and its first since before Christmas.
The game looked bleak for the Lady Eagles early, with the Warriors opening up a quick 10-0 lead. But after a Tyrone time out, the Lady Eagles regrouped and began to claw their way back into the game.
"I am very proud of the way the girls were able to get the job done after not shooting the ball well early in the game," said Tyrone Head Coach Luke Rhoades. "We stuck with our plan and we were able to attack harder as the game went on and it created scoring opportunities. [Northumberland] was a very talented, single A school ranked highly in the state for a reason."
Senior Stephanie Ramsey led the Lady Eagles with 24 points, followed by junior Kayelin Gibbons with 21 and senior Jaida Parker with 10.
The first tie of the game came in the 3rd quarter on the first of two foul shots by Marissa Lewis. Lewis then hit the second, giving the Lady Eagles their first lead of the game, 46-45.
The 4th quarter was wild, with many shots and fouls on both sides.
Northumberland was led by senior point guard Emily Garvin's 29 points.
Garvin was fouled with 1.7 left in the fourth quarter and the Lady Eagles up by 2. Garvin had a chance to put her team ahead by one with less than two seconds remaining. Her first foul shot was good, tying the game to 46-46.
Rhoades then called a timeout to ice the hot shooting Garvin, and the Eagles tried to set up a "hail-mary" play if she were to make her second shot.
Fortunately for the Lady Eagles, Garvin's second free throw was no good and Tyrone rebounded the ball to hold the score at the end of regulation at 46.
In overtime, Tyrone was able to maintain a lead by making foul shots.
Northumberland's Garvin picked up her 5th foul, which was a huge advantage to the Lady Eagles.
On their last play, Northumberland attempted to pass to the left side corner 3 but the ball was stolen by Stephanie Ramsey, who also drew the foul, making both free throws to end the game in a 60-53 win. Tyrone outscored Northumberland 14-7 in overtime.
Previous to this game, the Warriors were ranked second in the state a 1A.
A big force in this game were clutch free throws from Ramsey, Lewis, and Parker.
Ramsey went 10-11 from the foul line, including 8-8 in overtime. Lewis and Parker were both 100% from the foul line, 2 shots each, both times key shots to tie up the game and get ahead.
"In big games, foul shots are key to winning. We were able to shoot 89% from the foul line as a team, and that helped us secure easy points and put Northumberland away at the end," said Ramsey.
Junior Kayelin Gibbons was also a force in the key, ending the game with 21 points, an impressive number for the game and considering the double-trouble 6'2 twins that defended her in the key.
Finally, Emma Getz led the Eagles with 8 total assists and impressive defense on Northumberland's best player.
All together, it was a solid team effort for the Lady Eagles and a great tune-up for their upcoming playoff run.
The next home game is this Thursday against Clearfield and then again on Saturday against a top-ranked Mercyhurst team from Erie.
TYRONE (60): Lewis 0 2-2 2, Ramsey 5 10-11 24, Getz 1 0-0 3, Parker 4 2-2 10, Gibbons 9 3-4 21, Paul 0 0-0 0, Corl 0 0-0 0. Totals — 19 17-19 60.
NORTHUMBERLAND CHRISTIAN (53): Treas 1 2-2 4, Garvin 10 9-12 29, McCahan 0 0-0 0, A. Ulmer 0 5-6 5, E. Ulmer 7 0-1 14, Krum 0 1-2 1. Totals — 18 17-23 53.
SCORE BY QUARTERS
Tyrone 4 12 13 17 14 — 60
Northumberland Christian 10 14 13 9 7 — 53
3-point goals: Tyrone 5 (Ramsey 4, Getz).
Records: Tyrone (13-1); Northumberland Christian (11-2).