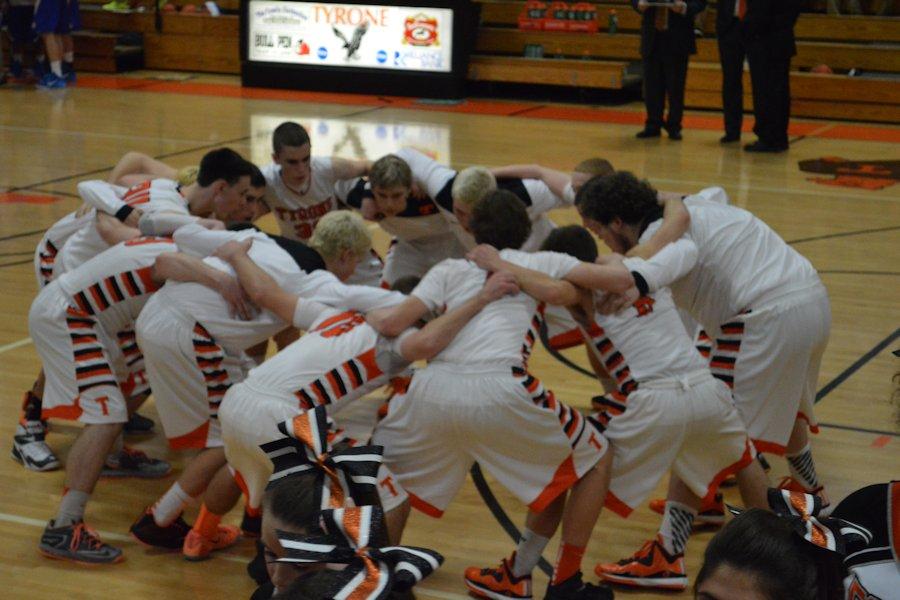 The Tyrone Golden Eagles boys basketball team earned a pair of wins this weekend from Scarlet Dragons of Central on Friday and the Titans of Tussey Mountain on Saturday.
Both opponents played with enthusiasm but were no match for the Eagles, who won both contests to improve to 4-0 on the season.
Tyrone avenges district playoff loss versus Central
On Friday the boys laced up for a showdown against the Central Dragons, the team that sent them home last year in the first round of playoffs.
The Golden Eagles beat Central 42-27.
The game started out slow with little scoring up in the first half.
Defense was key early as the Dragons were able to keep pace with the Eagles for the first half.
The end of the first quarter the score was tied 9-9, and at half time it was 14-13 in favor of Central.
"The first half was tough, but any mountain league win will do," said Tyrone head coach George Gripp. "We haven't won up here in a few years. Our team really played their hearts out tonight."
Gripps' team made the necessary adjustments during halftime and had a key third quarter, holding the Dragons to 5 points, and scoring 13 themselves.
"Our offense could've been crisper, but as long as we play defense like we did tonight we should be able to stay in the game," said Tyrone staring guard Pooky Soellner, who led all scorers on the night with 12 points.
Tyrone controlled the second half and pulled away to finish 42-27.
 Tyrone wins a close one at Tussey
Less than twenty four hours later, Tyrone played a non-conference game against a very tough Tussey Mountain Titan squad on the road in Saxton.
The game was hard fought as the Golden Eagles prevailed 48-47.
Tyrone fresh an Jacob Meredith had a clutch performance coming in for starting point guard Shane Geis who got into foul trouble early.
Meredith showed off his three point shooting ability by scoring a varsity career high 12 points.
"I just knew I needed to step up and make plays, when Shane was in foul trouble," said Meredith, "My first two threes went in, and everyone told me to keep shooting and I did. It was a great team win."
The game was exciting and intense with several lead changes, but in the end the Eagles pulled out the victory.
The game was tied at 45 when Tristan Lingafelt hit a three to put the Eagles up 48-45 with less than a minute left.
On Tussey Mountain's next position, they were fouled and made two of three free throws.
Tyrone guard Pooky Soellner was fouled with three seconds remaining and missed the first half of a one-on-one, giving Tussey the opportunity to take the final shot from just beyond the three point line.  However, the shot was off the mark and Tyrone prevailed.
"This is the third out of four games this season, where these kids have come together as a team and came out with the win," said head coach George Gripp.
Tyrone next game will be at home against Mountain League Conference opponent Huntingdon on Wednesday December 13th, tip-off at 7:00pm.
Box Score: Central
TYRONE (42): Pa. Mitchell 1 0-0 2, Meredith 0 0-0 0, Brooks 3 2-4 8, Geis 1 1-2 4, Soellner 5 1-2 12, Lingafelt 2 2-2 6, Pr. Mitchell 1 1-2 3, Politza 3 1-2 7. Totals – 16 8-14 42.
CENTRAL (27): Lafferty 0 0-1 0, Vollkommer 3 2-2 9, Ayers 0 0-0 0, Gahagan 1 0-0 2, Kensinger 2 0-2 6, Helsel 1 0-0 2, Appleman 0 0-0 0, Muthler 0 0-0 0, Dodson 2 0-0 4, McKnight 2 0-0 4, Karstetter 0 0-0 0. Totals – 11 2-5 27.
SCORE BY QUARTERS
Tyrone9 4 14 15 – 42
Central9 5 5 8 – 27
3-point goals: Tyrone 2 (Geis, Soellner)
Central 3 (Kensinger 2, Vollkommer).
Records: Tyrone (3-0); Central (1-2).
Box Score :Tussey
Tyrone : Pa.Mitchell 1 0-0 2; Meredith 4 0-0 12; Brooks 1 2-2 4;Geis 1 1-3 4; Pooky Soellner 2 3-5 7; Lingafelt 2 4-4 10; Pr.Mitchell 1 0-0 2; Politza 2 3-4 7
3 point goals Tyrone: Meredith(4) Geis(1) Lingafelt(2)
Tussey: Stats not available.