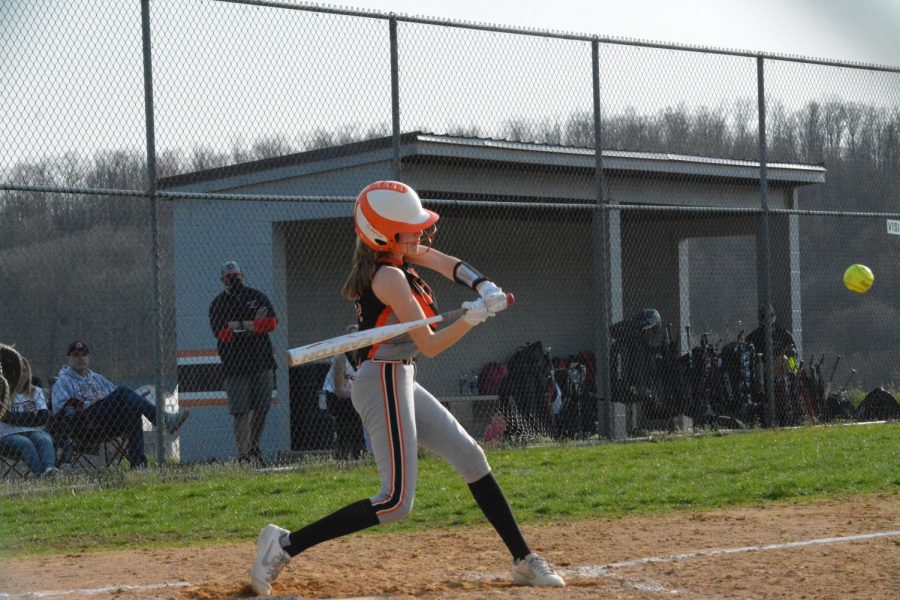 Eric Sims
Things weren't looking good for the Lady Eagles in the annual Backyard Brawl game on Saturday. Bellwood exploded with 5 runs in the first two innings, but the Lady Eagles did not fold and came back to win the game 7-6.
"We started slow, but it was great that we kept focus throughout the game to make the comeback possible," said senior Ella Pearson.
Bellwood scored two in the first and three in the second off of Jaidyn McCracken's triple.
Going into the bottom of the third, Ella Pearson smashed a ball in the gap of center and left field to bring in Kaylee Brodzina and shorten the deficit to 5-1.
Bottom of the fourth, the Lady Eagles began making a comeback with two RBIs from a Maci Brodzina double to make the score 5-3.
In the fifth inning, Tyrone was down by 2 with Ella Pearson on third and Maddy Rockwell on second when Elizabeth Pearson drove Bellwood pitcher Attie Poorman's second pitch over the left fielder's head for a home run, putting the Eagles ahead 6-5.
In the last two innings, Bellwood and Tyrone both brought in a run to make the final score 7-6, Lady Eagles.  Tyrone sophmore Maci Lingenfelter earned the win with a complete game.
Pearson was excited to lift her team over Bellwood with a dramatic hit.
"I know we had two runners in scoring position with one out, and I knew I had to at least just get the ball down. I wasn't expecting to hit a home run, but I don't think anyone was upset about it," said Pearson.
BOX SCORE
Bellwood-Antis 230 001 0–6
Tyrone 001 231 X–7
2B–O. Kelley (BA); M. Brodzina; E. Pearson (T).
3B–McCracken (BA).
HR–B. Pearson (T).
Multiple hits–A. Poorman 2, G. Finn 3, O. Kelley 3 (BA); M. Brodzina 2, K. Brodzina 2 (T).
RBI–A. Poorman 4, G. Finn (BA); M. Brodzina, E. Pearson, M. Tuskovich, B. Pearson 3, K. Brodzina (T).
WP–Lingenfelter. LP–G. Finn.
SO–Lingenfelter 6, G. Finn 8.
BB–Lingenfelter 1, G. Ginn 1.