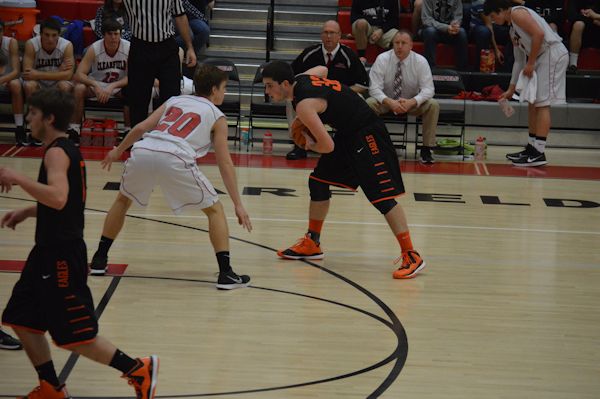 Andrew Bartos
The Tyrone Golden Eagles boys varsity basketball team got the short end of the stick in Clearfield this past Friday night. The Eagles fell to the Bisons 79-61 in a game full of controversial calls.
"We knew coming in that this was going to be a huge game between the top two teams in the Mountain League," said Tyrone Head Coach George Gripp, "but we came out slow and had a few calls not go our way."
"We didn't fight through the adversity well enough," said senior guard Pooky Soellner.
Soellner led the Eagles in scoring with 21 points, but received two technical fouls and was ejected from the game early in the fourth quarter.
Three of Tyrone's starters, Soellner, Tristan Lingafelt and Anthony Politza, all fouled out of the game, causing an uproar from the visiting Tyrone crowd.
"This game is going to be a tough one to swallow," said senior point guard Shane Geis.
The Eagles held the lead only once, at the end of the first quarter they were up 13-10.  However, as the Eagles ran several players into foul trouble the Bisons were able to capitalize and pull away.
The Bisons improved to 5-0.  The Eagles, who dropped to 5-1, will have an opportunity for a rematch with Clearfield at the end of next month as they play the Bisons again on the January 30th.
Next up for Tyrone will play in the Kiwanis Club Tournament at home, beginning with Penn Cambria on December 29th.
Tyrone should have a good the chance to win consecutive Kiwanis Club Tournament trophies.  The other teams entered into the tournament are Bellwood and Chestnut Ridge.  Tip off is to be announced.
Box Score
Clearfield: 10 23 22 24 – 79
Tyrone: 13 12 16 20 –  61
Scoring: Clearfield- Sellers 4 2-8 10; Spaid 3 0-0 7; Myers 10 8-9 31; Hazel 8 0-0 19; Mckenzie 2 2-2 7; Brown 1 0-0 2; Stover 0 2-3 2; Shimmel 0 1-2 1
Tyrone- Z.Soellner 1 0-0 2; Pa.Mitchell; Brooks 6 2-3 18; Geis 1 0-0 2; P.Soellner 6 6-6 21; Lingafelt 3 0-0 7; Thomas 0 1-2 1; Politza 3 0-0 6