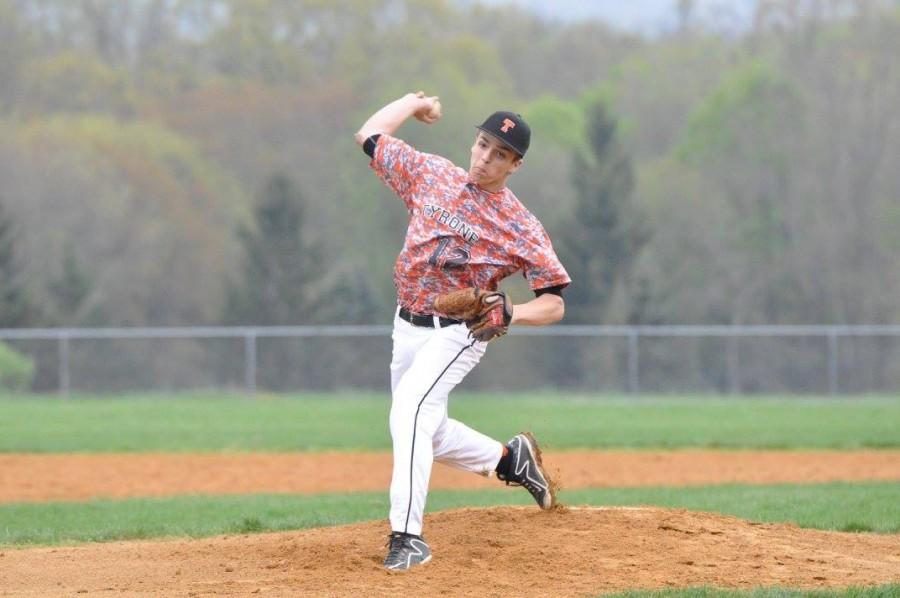 Terry McCaulley
Tyrone baseball ended their season Thursday, May 7 falling to Penns Valley 7-1. The Eagles finished their season 3-16.
The Eagles ended their season rough losing the last several games of the season. Any time a team goes three wins to 16 loses is never a good thing.
The Eagles lost to Bald Eagle Area to start the week. They lost on Tuesday to West Branch 16-5. Then got beat Thursday 7-1 at the hands of Penns Valley.
The highlight of the 2015 campaign was definitely the win against heavily favored Bellwood-Antis mid-season.  They also split with Penns Valley early, winning the first of two games versus the Rams. Williamsburg was also was helpful in getting the Eagles their third and final win, one in which the Golden Eagles scored a season high 24 runs.
The season is over now for Tyrone, with no chance of playoffs.
"Even though we didn't have the season we hoped for it was still a very fun season," said starting Infielder Pooky Soellner. "I loved everybody on the team, I'm sad it's over."
The good news is that the Eagles will have seven starters returning for next season.
Key returners will be Zach Soellner, Tony Politza, Brian Gunter, Drew Hunter, Coy Focht, Brett Robinson, Gary Weaver and Matt Brenneman.
The team will also be under new leadership as head coach Mark Savino will be stepping down at the conclusion of the season.  The school board has already advertised for a new head coach and next year will begin a new era of Tyrone baseball.
"Hopefully next season is the start of something new," said returning starter Zack Soellner. "With seven starters coming back hopefully we can forget the past season and move on to bigger and better things."