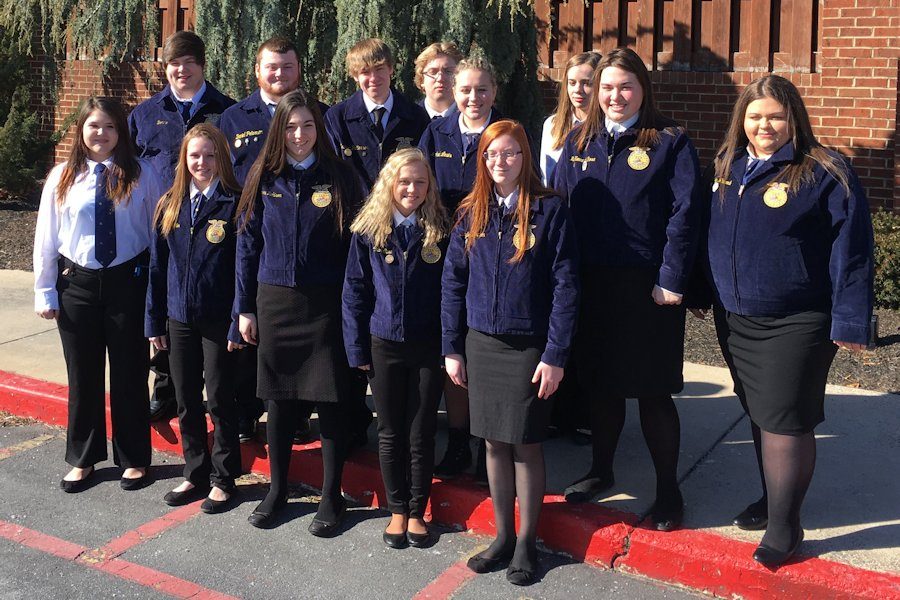 Thirteen Tyrone Area FFA members attended the 19th annual Agricultural Cooperation Establishes Success (ACES) conference in Harrisburg Pennsylvania on February 4-5. The conference was attended by more than 1500 members from across the state. On the first day of ACES members participated in workshops. These events are run by the State Officer Team and the PA FFA Association.
"We learned about communicating with brands, defined success, learned about agriculture within the US and world, and had interactive lessons on careers and leadership qualities," said Tyrone junior Sierra Robison.
Later in the evening the students practiced proper table etiquette. Students had the opportunity to socialize and burn off energy through a dance social. Before lights out, students attended a 20 minute reflection on how the FFA has impacted through the years and will continue to impact the world.
The morning before departure from Harrisburg, members gathered to complete the community service project at ACES. The Pennsylvania FFA Foundation representative, Sarah Sparks, shared the great news that Pennsylvania FFA Foundation received a $5000 grant to help fight childhood hunger. Each region collected money and items for the food drive. During breakfast, they were challenged to create a program to impact their home communities in fighting the hunger crises.
"This weekend was fun and definitely memorable. I met a lot of great people who joined me on this journey to 'Activate with a Purpose, Passion, and Potential' through the FFA," said first year member, Lexi Kagarise.
"Over this journey I learned more about FFA and agricultural opportunities and want to continue to motivate other chapter members to get active and engaged in the FFA and community," said Haley Miller, also a first year member.
Special thanks to CSX Transportation, Northeast Agricultural Education Foundation, Pennsylvania FFA Foundation for sponsoring portions of the conference.