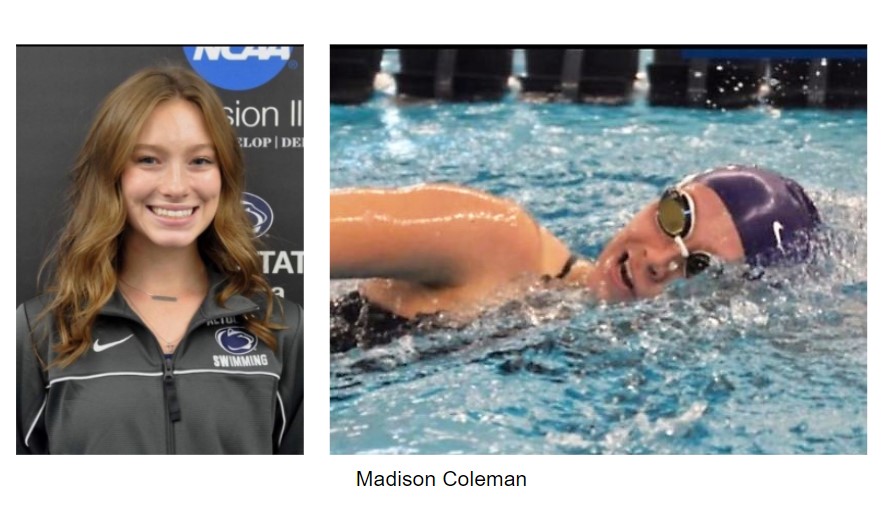 Tyrone Alumna Madison Coleman is raking in the awards in just her first season of collegiate swimming.
In February, Coleman was one of four Penn State Altoona swimmers and the only freshman named to the Allegheny Mountain Collegiate Conference All-Star team and last month she was one of five Penn State athletes selected to the Allegheny Mountain Collegiate Conference's Winter All-Sportsmanship Team.
"Maddy is the ultimate teammate. She's extremely talented as a swimmer, but most importantly, she works hard and has a strong desire to get better every single day," said Penn State Altoona Head Swimming Coach Bradley Brooks. "She's a great communicator, and always checks in with me after every practice to talk about how she did and how the next practice can be better."
Coleman said she was honored to be selected to the all-star team but was especially humbled to be named to the all-sportsmanship team.
"Winning a race is a great feeling, but [the sportsmanship] award meant so much more than that. Supporting my teammates in and out of the pool is something I strive to keep a priority along with a positive attitude," said Coleman.
Student-athletes selected for the sportsmanship award must consistently demonstrate a high level of ethical conduct, respect, and fair play in both practice and competition, whether on the sidelines or as an active competitor.
However, Coleman was much more than just a good teammate. She also contributed heavily in the pool and on the podium for the Penn State Altoona Lions.
At the Conference Championship Meet in February Coleman helped her team to a third-place finish overall. She was a part of several relay teams that placed at the meet and several school records. Individually she finished third in the AMCC and fourth overall in the 100 freestyle with a time of 55.50.
Tyrone High School Head Coach Tom Getz is not surprised that Coleman is contributing in such a big way to her Penn State Altoona team.
"Madison is one of the best swimmers to ever come through Tyrone's program, She was a joy to coach and it was a privilege to watch her grow, not only in swimming but as a young lady," said Tyrone Head Coach Tom Getz.
In high school, Coleman was undefeated in dual meets in the 50 freestyle. She was the team leader in points in each of her four years and qualified for the district championships in the 50 and 100 freestyle all four years of her high school career.
Coleman was not the only Tyrone swim team member to be honored. Former Tyrone swimmer and 2020 Bishop Guilfoyle graduate Matt Lenze was also named to the 2022 All-Sportsmanship team.
Coleman was happy to see her former high school teammate be recognized as well.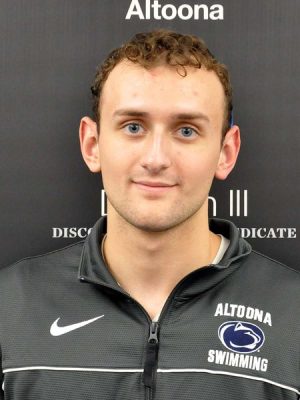 "Matt is more than deserving of this award. I was not shocked at all that he received this, it was right up his alley. Matt is someone you look up to, always supporting and has such a positive attitude." said Coleman.
"Much like Maddy, Matt is the exact type of guy that you love to have on your team. He shows up, works hard, and will do anything that you ask him to do, which sets a great tone for the rest of the guys on our team," said Brooks.
Brooks is looking forward to the next three years with Coleman and Lenze anchoring the mens and womens swim teams at PSU Altoona.
"Coaching both Maddy and Matt has been so much fun this year, and I can't wait for next year. I think we are just scratching the surface of how good they can become, and with their attitudes, I think we can really make headway at chasing more records and podium finishes at conferences in 2023," said Brooks.