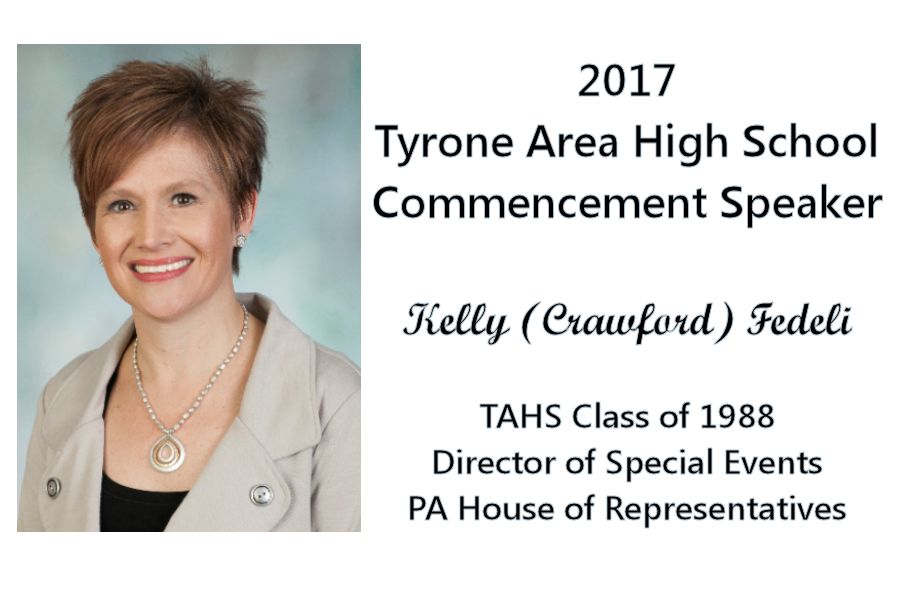 Like the members of the class of 2017, alumna Kelly (Crawford) Fedeli also used to walk the halls of the Tyrone High School. She knows what it's like to grow up a Golden Eagle, work hard, and find success in life. With that experience, the senior class is excited to have her as the 2017 Commencement Address Speaker.
Fedeli is currently the Director of Special Events in the office of Speaker of the Pennsylvania State House of Representatives, Mike Turzai of Allegheny County. Her duties include arraigning for swearing-in ceremonies, special guests, ambassadors, international delegations and celebrities to appear on the floor of the Pennsylvania State House.
Fedeli was just a little girl when she first discovered her love for politics. Her first taste came right here at Tyrone Elementary, when she ran for, and won, the election for class president in third grade.  But her interest really peeked when her dad, current Tyrone Area School Board President James Crawford, first ran for school board.  She accompanied her parents as he ran for office and served on the board, meeting many of Tyrone's community leaders.
In her senior year at TAHS, Fedeli was voted most likely to succeed by her class. After graduating from Tyrone Area High School in 1988, Fedeli attended Juniata College in Huntington and received her bachelors degree in political science in 1992. While at Juniata, she ran for and was elected to a class officer position and organized many student-led events at Juniata.
"I remember Kelly very well from Juniata," said current Tyrone teacher and fellow Juniata graduate Todd Cammarata, who was also involved with student government activities at Juniata.  "Kelly was a superb leader and organizer at Juniata.  She was always working hard to make Juniata's student run events like All-Class Night and Mountain Day better for the students."
Recently, the 2017 class officers had the opportunity to meet with this year's commencement speaker.
"I am excited to hear what she has to say, I feel like her connection to Tyrone will make the message more meaningful," said TAHS senior Toni Burns.
As for her commencement speech, Fedeli hopes that the students will remember to make responsible choices and respect others.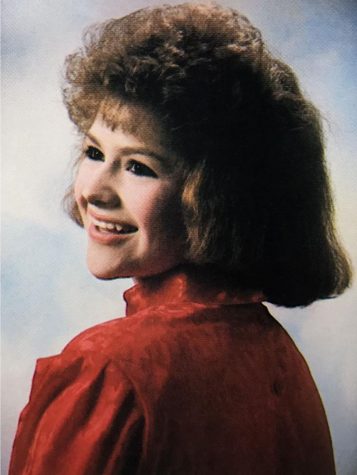 "After listening to my speech, I hope the students will see that the way they conduct themselves and the choices they make in difficult situations will impact their future success and the level of respect they will receive," said Fedeli.
Fedeli grew up in a hardworking Tyrone family.  Her dad is a full time dairy farmer in Sinking Valley, and her mom was a teacher.
Graduating from Tyrone High School in 1988, Fedeli's passion for helping others is what inspired her to enter the political field.
While in college, Fedeli took advantage of many internships in Harrisburg and around Pennsylvania. It was these experiences that made her realize the many  opportunities available to her.  Her first internship was with Tyrone House Representative Sam Hayes, who then got her a summer job as a researcher for the House's Urban Affairs Committee.
"Through those internships I became familiar with Harrisburg, which sort of opened up the possibility of going beyond Tyrone," said Fedeli.
After Hayes retired, Fedeli worked on the election campaign of his successor, Larry Sather of Huntingdon.  Her first official job in state politics was working in Sather's district offices in Tyrone and Huntingdon.
"You are working directly with people on their problems whether it's a pothole, a drivers license problem or getting child support. It's here that you learn peoples doubts, fears and dreams. You never lose that perspective of the people in your district," said Fedeli.
She moved to Harrisburg because that's where her fiance, Shane Fedeli, was employed at the time.  Hayes helped Fedeli to get a job interview in Office of Members Services, where she landed a job doing research and drafting constituent letters.
Throughout the following years, Fedeli held numerous jobs in Pennsylvania state government, working for many different Republican lawmakers.  Fedeli worked in the Members Services Department, Communications Department for the House of Representatives, and in public relations for the House, are among a few of her many positions.
In her current job, she has had the opportunity to host may events for dignitaries and celebrities.  According to Fedeli, the most memorable visitor that she hosted was Pittsburgh Steeler great Hines Ward.
"We had to sneak him from the Senate chamber to the House chamber through all these back hallways and rooms so he wouldn't get mobbed," said Fedeli.
Although she has moved onto bigger and better things, she still finds the personal aspect of politics to be among her favorites.
"When you see the family of a police officer or a soldier that has fallen in the line of duty being applauded by the members, or see a World War II veteran of the Battle of the Bulge with tears streaming down his face, you cannot help but be changed by those emotions," said Fedeli.