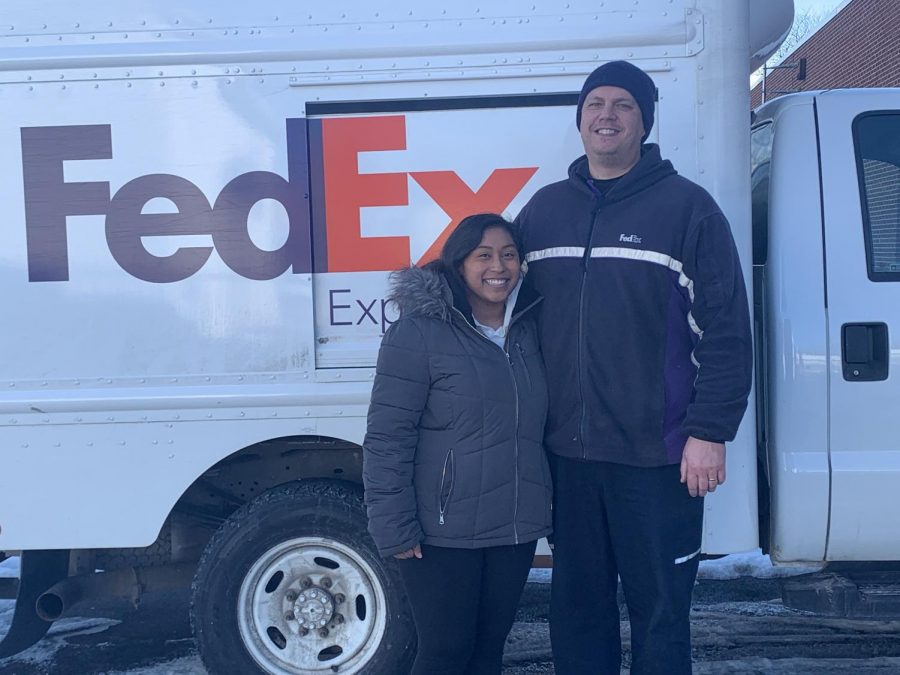 Caleb McKinney
Tyrone Class of 1994 alum Adam McKinney drives between 210-260 miles a day delivering packages to homes and businesses across central Pennsylvania for FedEx. In his 22 year career, the Warriors Mark native has delivered hundreds of thousands of packages, but none were more important or memorable than the heavily insulated box McKinney delivered on January 5.
McKinney was responsible for completing the final leg of a long journey for thousands of doses of the Moderna COVID-19 vaccine.
"That morning when I started, my manager came up to me with paperwork and told me I was going to deliver the vaccine to a pharmacy in Bedford," said McKinney.
Immediately McKinney realized that this was not a routine delivery and that he was about to play a part in something historic.
"It felt surreal, but it made me feel good that I got to contribute when many other people are stuck at home or in quarantine. It was by far the coolest thing I have ever delivered," said McKinney.
The Moderna vaccine is manufactured in Massachusetts but the package McKinney delivered to Bedford originated in Irving, Texas from the McKesson Corporation, a wholesale medical supply, and pharmaceutical distribution company.
McKesson was awarded a contract through Operation Warp Speed for vaccine distribution and began filling orders in late December. They partnered with FedEx and UPS to deliver the Moderna vaccines and supply kits across the country.
According to a FedEx press release, "The shipment of vaccines to help end the COVID-19 pandemic is among the most important work in the history of FedEx, and our team is focused on the safe and efficient delivery of these critical shipments," said Raj Subramaniam, FedEx president and chief operating officer.
FedEx began distributing the vaccine nationwide in late December, but the first to reach McKinney's truck in central Pennsylvania came in early January.
"In a way, it's weird that we are delivering [the vaccine] like it's just any other package because it's such a big thing," said McKinney. "It felt very surreal just because this is all we have talked about since March. It felt like we had some hope."
While the vaccine is on the same truck as his normal daily deliveries, there are a few extra steps involved with the vaccine packages.
According to McKinney, the vaccine always has to be his first stop of the day. Upon delivery, in addition to a signature, he has to have the recipient spell their name out. He also has to remove a special GPS tracking device from the box before the delivery is completed.
"It was a heavy box and I could tell that it was an insulated package so the contents were temperature-sensitive," said McKinney.
Since January, McKinney has delivered the vaccine several more times and according to him, each time is just as exciting as the first.
"That was the craziest thing I've ever delivered. It definitely beats out delivering a Keurig or Goodyear tires," said McKinney.