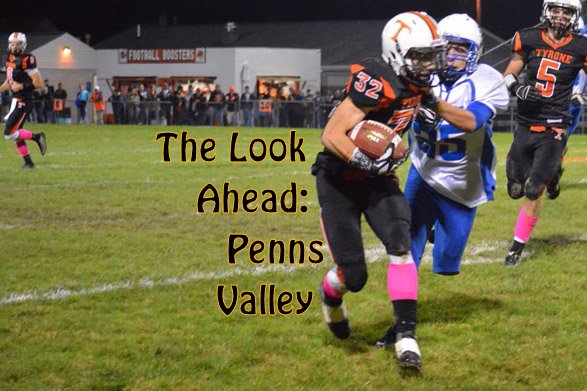 The 4-4 Tyrone Golden Eagle football squad will head to Spring Mills to take on the 5-3 Penns Valley Rams this Friday night. Tyrone has never lost a game to Penns Valley, but the Rams are in the midst of one of their best seasons in years, so this is by no means an automatic win for the Golden Eagles.
The Golden Eagles are coming off four straight losses and they desperately seek a victory to preserve their playoff hopes.
"We've played four really good opponents in four straight weeks," said head coach Jason Wilson, "Our goal is still reachable and we need to understand what we need to do to reach that. This week is the focus to get us back on track. The competition will only make us better as we finish out the season."
Tyrone's first half performance last week was significantly better than week's past.  The Eagles headed into the locker room knotted up at seven with Hollidaysburg, but the second half was considerably worse for the Golden Eagles, giving up 21 points with only 6 to answer.
Despite the loss, there were still many positive takeaways for the Eagles.
Senior Zac Albright intercepted two passes, senior Denver Light threw for 142 yards, and sophomore Tommy Hicks caught two touchdown passes.
"We played well once again but had several mistakes that really hurt us and put us in bad situations that we've been talking about for the last couple weeks," said Wilson, "We moved the ball on offense but couldn't finish out drives. We forced several turnovers on defense but let them get several yards after contact. We need to clean things up as we finish the regular season out."
Penns Valley, on the other hand have had themselves an erratic season, narrowly defeating the 3-5 Central Scarlet Dragons but also beating the 6-2 Bellefonte Red Raiders 42-27. Their latest contest pitted them up against the Bishop Caroll Huskies where they would come home victorious 42-14.
Junior quarterback Aaron Tobias threw for 196 total yards and four touchdown passes while junior Logan Snyder led the defense with nine tackles. This Penns Valley team can score some points, averaging just over 37 points per game.
"Their offense is the first aspect of the game that I noticed," said coach Wilson, "Penns Valley is very efficient at moving the ball and we need to make sure that we have everyone accounted for in position ready to make the stops. They put together long drives and spread the ball around equally to a lot of good targets. It will be a difficult task to contain them."
In the end, Tyrone matches up nicely with Penns Valley, and this Friday night is going to be a big test for both teams. We can speculate all we want, but the games are played out on the field. It's time for the Golden Eagles to get back into the win column.