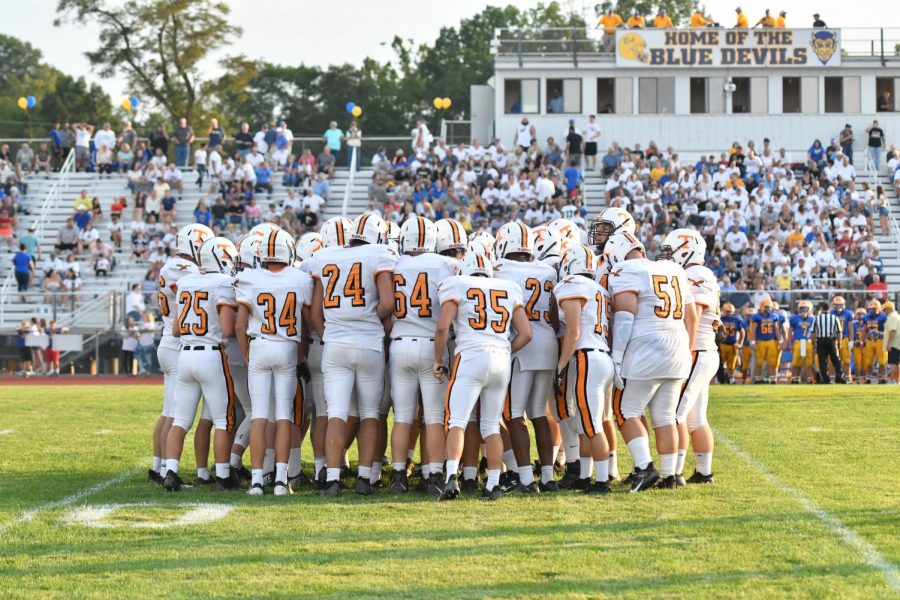 Ellie Oakes
Not only are the Juniata Valley Green Hornets coming off a successful 6-3 2021 season, but they also added 15 new players this fall when they announced a co-op agreement for football with the Williamsburg School District.
Williamsburg, one of the smallest school districts in the state, did not have enough players to field a team this year. The addition of the15 Williamburg players means that Juniata Valley will have a very deep roster with 55 players on the squad.
The Hornets have enjoyed a solid run of success under Head Coach Bill Musser, including a season-opening 20-2 win over Tussey Mountain last week.
The Golden Eagles are looking to bounce back from a 33-13 loss last week to Bellwood. They have been working to adjust their defense and have tweaked the offensive line to give quarterback Keegan Gwinn more time in the pocket.
"I think our team will become more successful as the season goes on, and as our teammates work together more as a team," said Golden Eagle wideout, Deegan Baldauf.
Juniata Valley lost their standout quarterback Hunter Johnson to graduation but will fill the position easily with Williamsburg's Lambert Palmer who threw for over 1000 yards and 9 touchdowns last season, along with 130 yards and 6 touchdowns on the ground.
On the offensive side of the ball, J.V. returns their top rusher, Jayce Rand, who rushed for 860 yards and 8 touchdowns last season.
Key receivers for JV this year are Jake Johnson and Andrew McMonagle. Tyrone will have to be sure to limit the big plays. Bellwood was able to defeat the Golden Eagles last week on the strength of three big passing plays.
JV did lose four of their six linemen from last year's squad and that will make it difficult for their running backs. Tyrone also hopes to put pressure on Palmer in the passing game.
Defensively the Green Hornets are dealing with a big void in the secondary with the loss of 2021 grads Hunter Johnson and Gabe Brower, but Coach Musser thinks his underclassmen will step in and fill their spots.
Golden Eagles kick off tonight at 7:00 at Gray Veterans Memorial Field.  The Eagle Eye will live stream tonight's game on the Eagle Eye YouTube Channel.
Tonight's game is also the Go Gold Game for the Brian Morden Foundation. The cheerleaders and student council will be selling t-shirts and ribbons to support the foundation's mission to end childhood cancer and support local children fighting cancer.