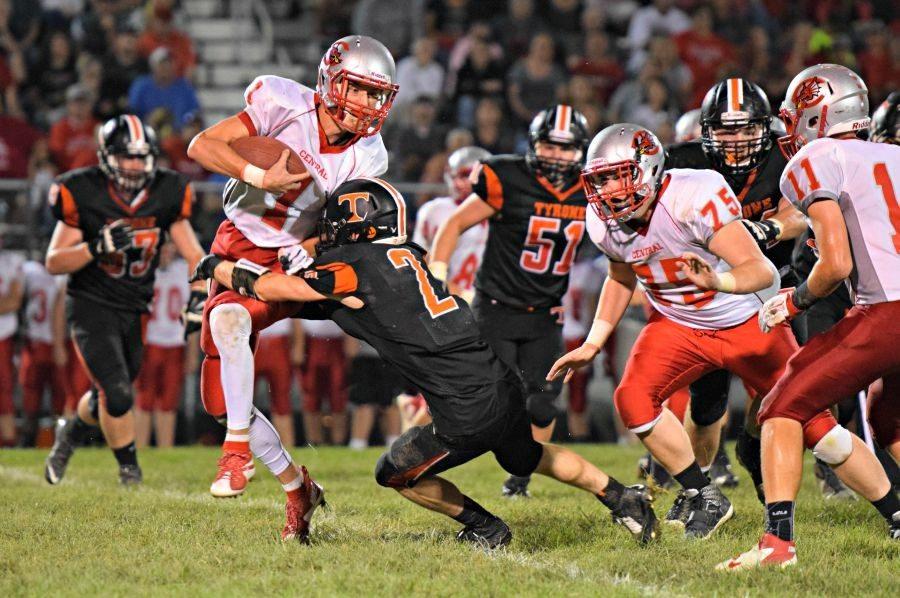 Kendra Wertz
The 1-0 Tyrone Golden Eagle football squad will head south into the dragon's den to meet the Central Scarlet Dragons this Friday. Central also boasts a record of 1-0. This game should be an early season Mountain League battle of the titans, a true test for both squads.
Despite the close 16-7 final score, the Golden Eagles dominated the Bellwood Blue Devils in many aspects last week. Mistakes and miscues by Tyrone ultimately made this year's iteration of the Backyard Brawl closer than it should've been but in the end, a win is a win. Tyrone hopes to take that and improve upon their mistakes in this week's contest.
Central started the year off on a high note, destroying the Northern Bedford County in week one 32-6.
Central returns only three of its starters on offense from last season's district 6 championship squad, but returning starting quarterback Noah Muthler made it look more like Central is reloading this season rather than rebuilding.
Muthler led the Dragon's offensive charge last week, playing a roll in four of the team's five touchdowns. Tyrone must keep the Muthler at bay and keep him off the ground and out of the air if they want to have a good chance to win.
The Central defense is coming off a monstrous game where they were able to hold the Panthers to under 100 yards of total offense and only one touchdown, scored by NB senior Case Donaldson. It is imperative that the Golden Eagles establish the run game and drive the ball down the Central's throat if they are to walk away with the win.
The Golden Eagles offense is coming off a less than stellar outing, putting up half of the points that the Dragons put up last week. Despite having almost 350 yards in total offense, the Eagles only scored 16 points against the Blue Devils.  They will have to move the ball more efficiently and finish drives this week if they want to score against what has historically been a strong Central defense. Central is known for shutting down the run so the Eagles must remember their assignments if Zac Albright and the offense is to move the ball.
On the defensive side of the ball, Tyrone is looking to be a strong force this season. The Eagles shut down the Blue Devil offense, only surrendering 7 points and 128 total yards. Bellwood was not able to muster any form of offense whatsoever in the second half.
"If we can go out there and just limit the mistakes and play with aggression, we'll win this game." said Senior Isaac Jackson, "We need to do the little things."
The Golden Eagles have not beaten Central since 2014 but if Jackson and the line can limit the mistakes and fire off the ball, Tyrone will shine Friday night.