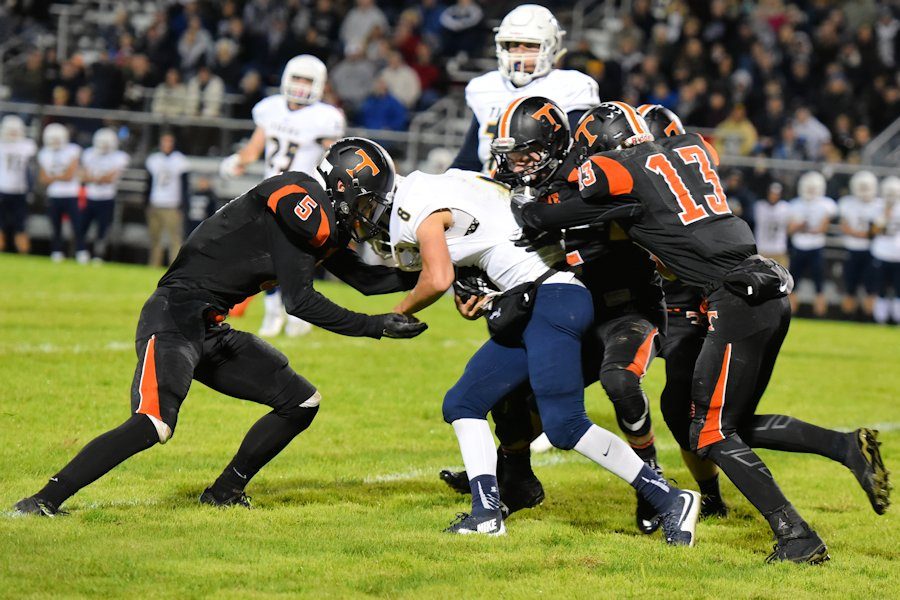 The 2-5 Golden Eagles look to tally their third in the win column this Friday against the Hollidaysburg Golden Tigers on Friday.
All around, last Friday's game versus Clearfield wasn't as bad for the Eagles as the lopsided score suggests. The Golden Eagles were able to drive the ball down the field on numerous occasions. Unfortunately the Bison were able to capitalize on turnovers and in the end came up with a 35-7 win.
The Hollidaysburg Tiger's victory was huge last week against Taylor-Allderdice. They slaughtered the Dragons in every phase of the game and cruised to a 42-6 victory. The Tigers' 42-38 nail biting defeat against McDowell two weeks back better describes the level competitiveness that we should expect from the 4-3 Golden Tigers this Friday night in Hopllidaysburg.
Tyrone is down, but not out. Once again, if the Eagles hope to make it to the playoffs, it is imperative to win this game. It's best to take it one game at a time. The only thing the Golden Eagles should be concerned with now is how they can win this game.
The Tiger defensive front is going to be brutal. Let's not forget that Hollidaysburg is a class AAAAA school so the Golden Eagles definitely have their work cut out for them. However Central was able to tally 20 points on the Tigers so their is a very good chance that the Golden Eagle offense can shine through and put some points on the board.  Provided, of course, they can remain on the plus side of the turnover ratio. 
The Hollidaysburg offense has had it's highs and lows. The Tiger offense has been a challenge for many to contain this season. Outside of the State College and Fort Hill games, they have been a force to be reckoned with. Tyrone's defense needs to crank it up a notch from last week if they are to stop the Tiger offensive.
Last week was closer than the score may tell for the Golden Eagles. Take away a few costly errors and the Eagles may have won last week. If the Golden Eagles can take it to the Tigers like they did to Philipsburg and Bald Eagle, this match-up should be a good one.