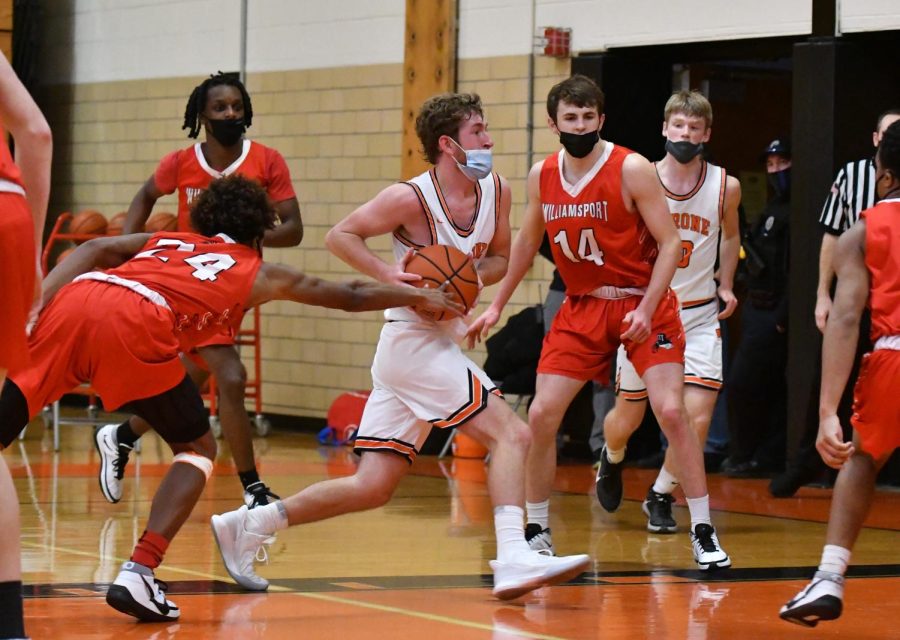 Ellie Oakes
The Tyrone Golden Eagle basketball team has had two very similar seasons in 2019-20 and 2020-21, with successful regular seasons that resulted in heartbreaking losses in the final seconds of the district playoffs.
The boys hope to write a happier ending to their 2021-22 season, beginning with the opening chapter tonight at Bellwood Antis for the annual Backyard Brawl.
Last year's game was dominated by Tyrone with a score of 90-40.
Keys players for the Bellwood Antis basketball team are Conner Gibbons (#10), Sean Mallon (#14), and Zach Pelligrene (#22).
The Blue Devils were 10-9 last season and lost a handful of starters so it could be a struggle tonight going up against Tyrone's fast style of play and full-court press defense.
Tyrone will also have a new look this year. Only two starters return to the team this year, seniors Courtlynd Rhoades and Landen DeHaas.
Familiar faces from last year's squad also include Ross Gampe, David Lang, Keegan Gwinn, Jake Johnson, Zac LeGars, Brady Ronan, and Dravyn Crowell.
In 2020-21, Tyrone had a successful 17-3 record and a perfect 11-0 in league play to claim back-to-back Mountain league championships. Key losses from last year's team are 1,000 point scorer Damon Gripp, Jake Taylor, Brandon Lucas, and Blaine Hoover.
This year's team is different from the past couple of years in one important way: with three players over 6'3, Tyrone will look to be more physical in the paint, which was carried by just Brandon Lucas last year.
Landen DeHaas at the point is a very quick talented player with premier ball-handling skills and defense. This affects the performances of sharpshooting talents Cort Rhodes and David Lang.
The tipoff is 7 pm tonight at Bellwood-Antis High School. Tyrone students are encouraged to attend. The dawg pound theme is Black Out.