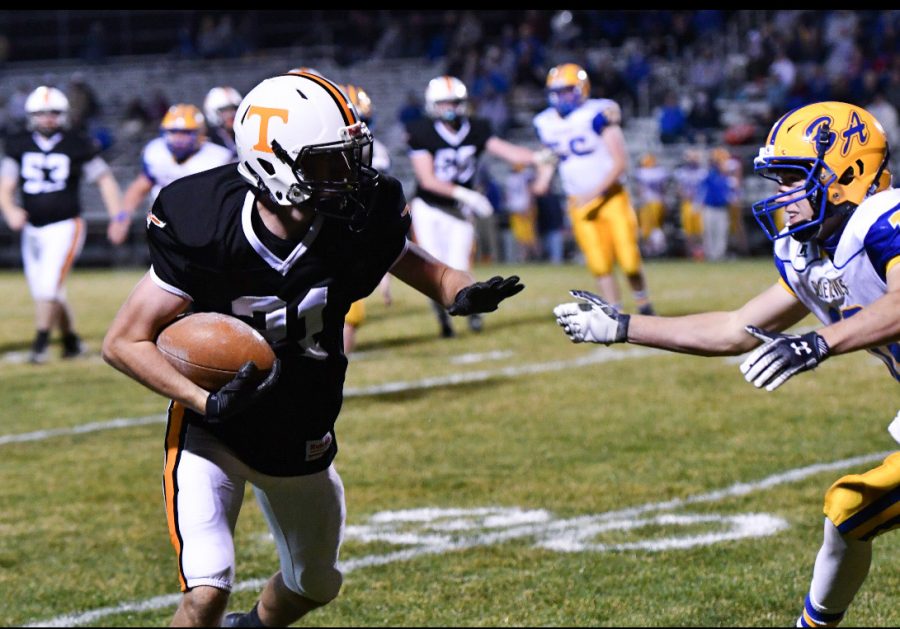 Lucia Isenberg
This year's Backyard Brawl is a must-win for Tyrone after losing to their Blair County rivals in back-to-back years: a 29-16 loss in 2021 and a 35-32 double-overtime heartbreaker in 2020.
Despite their recent success, the Blue Devils still trail the Golden Eagles 55-30-1 since the annual rivalry game began in 1939.
Tyrone had a promising 2020 campaign that ended with a 6-2 season following a tough loss to Central in the District 6 Championships, and an unusual post-playoff loss to Bellwood the following week. 
This season Tyrone returns four offensive starters, senior Keegan Gwinn, and juniors Dylan Brower, Ross Gampe, and Jimi Fogleman. Gampe and Gwinn are in new positions this year, hoping to bring more firepower to the offense. 
Cort Rhoades, Ross Gampe, Deegan Bauldauf are the key receivers this year after losing all-state wide-out Damon Gripp to graduation. Getting the majority of the touches in the backfield will be Corrie Beck, Brady Ronan, Kolten Miller, and Zac LeGars. 
Defensively, it will be hard to find a replacement for defensive end Matthew Clifton who had eight sacks last year, but after recovering from a torn meniscus, senior Jake Johnson is ready to take over the role and wreak havoc on the backfield.
After the key losses of Tommy Hicks and Dean Grassi, the "twin powers" Joshua and Nathaniel Patterson will step in and are ready to fill the linebacker position. 
The Golden Eagles also have three fresh faces in the starting lineup for tonight's game:  sophomores Dravyn Crowell, Braden Ewing, Brady Ronan.
Bellwood Antis lost a very dominant running back duo in Zack Mallon and Nick Plank who combined for 1,482 yards and 23 touchdowns.
Bellwood may be losing their backs but they are returning a very prominent offensive and defensive line.
Cooper Keen and Cooper Guyer are the players to watch for Bellwood on both sides of the ball. Bellwood had an undefeated regular season in 2021 but once again lost in the first round of the district playoffs. 
The overall outlook for tonight will likely be like any other year, the game is won in the fourth quarter and whoever is the toughest team will walk out with the trophy. 
The kickoff is at 7:00 pm at John R. Hayes field at Memorial Stadium in Bellwood.