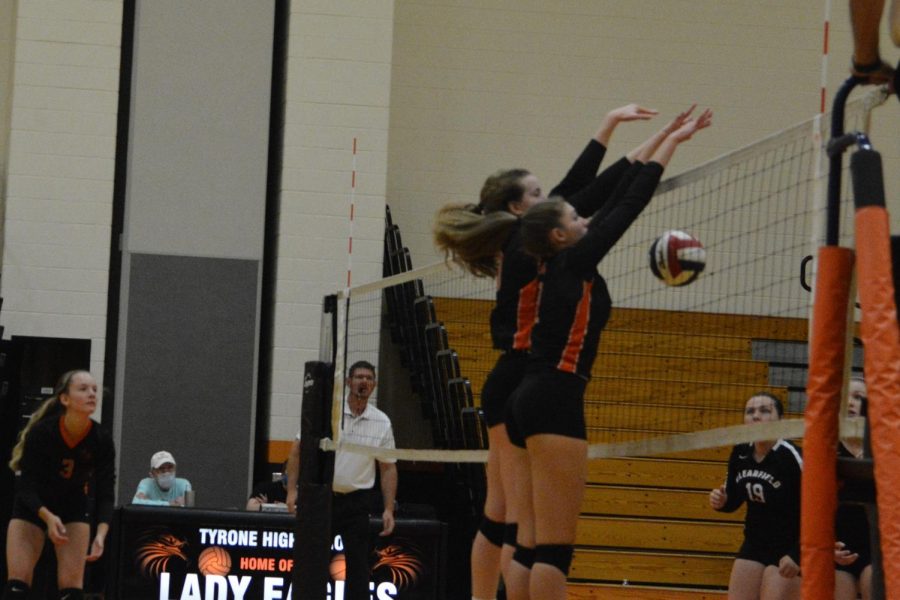 Ashlynn McKinney
In their 2020 season opener Monday night the Lady Eagles took their first step toward the goal of returning to the district playoffs with a comfortable 3-0 win over the visiting Clearfield Bison.
The Lady Eagles relied on outstanding serving and offense to carry the team. Sophomore Elaina Gehlman led with 9 aces and senior Makenna Bauer recorded 11 kills.
Because of COVID crowd restrictions, the game was played in an empty gym. To accommodate the limit of 25 people at an indoor event the team's bench players had to shift into the gym from the hallway during the game.
Despite these challenges, the Lady Eagles were able to focus on what was happening inside the lines and play their game.
"I'd say the team really just had to focus and play at the same level of competitiveness at all times, no matter who's across the net or what the score is," Gehlman said, "Even though Clearfield couldn't really compete with us, I think we did a good job of still being aggressive and not letting up just because we were winning."
In the first set, the Lady Eagles took advantage of Clearfield's weak serve receive, winning the first match 25-14.
The next set, the Lady Eagles came out with the same energy, going on a 13-0 run to open the set. The second set ended 25-14, Tyrone.
In the last set, the Bison showed some signed Eagles wanted to finish what they started which was to win. They pulled through and won the last set 25-14.
The Lady Eagles won 3-0. The score for all 3 sets were 25-14. Tyrone is 1-0 overall and 1-0 in the Mountain League. Tyrone JV also won 2-1 (23-25, 25-14, 15-6).
Individual stats:
Makenna Bauer- 11 kills, 2 aces, 3 digs
Reagan Irons- 7 kills, 3 aces, 2 digs
Courtney Williams- 4 kills, 2 blocks
Elaina Gehlman- 9 aces, 4 kills, 2 blocks
Maecy Tuskovich- 5 digs