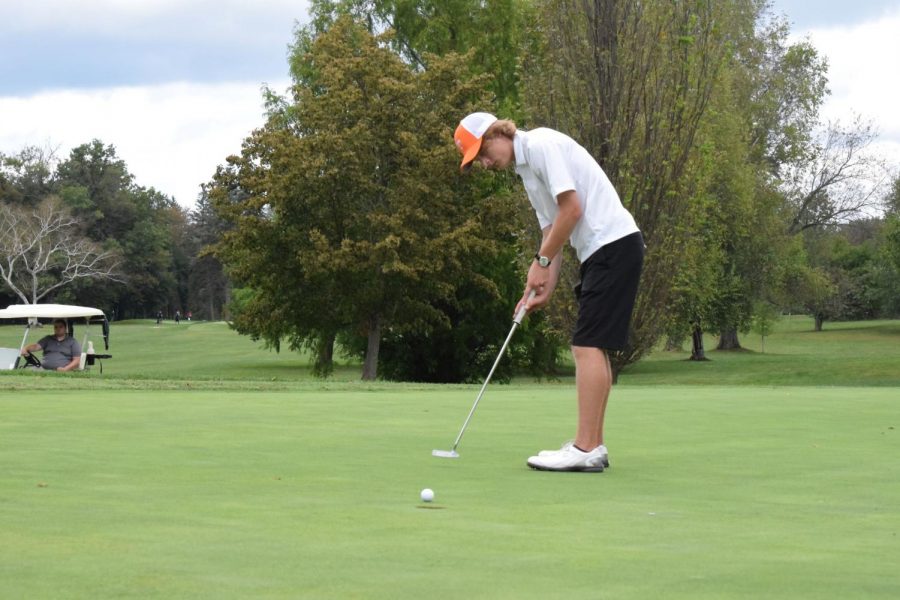 Tyler Beckwith
The Golden Eagle golf team took first place of eight teams on Thursday at Nittany Country Club in State College. With the victory, Tyrone's record improves to 19-2 in the Mountain League.
"I felt extremely excited for our players. I felt that we took advantage of the situation and played some really good golf," said coach Funicelli.
Once again, junior Jake Taylor lead the Eagles to victory with a 5 over par 77, giving him a first place finish overall.
"I kinda fell off at the end of my round, but I am overall happy with my score," said Taylor.
Following Taylor, senior Brent McNeel shot an 81 giving him his second fourth place finish in 2 weeks.
Freshman Cassidy Miksich followed close shooting an 82 and placed fifth.
Lastly, sophomore Colt Brooks shot an 85 giving him a 7th place finish. 
"I wasn't on my 'A' game but I was proud that I could make a good score through the back nine," said McNeel.
The Eagles took the victory giving them a chance to become co-Mountain League Champions with Philipsburg. The Golf team needs to beat Philipsburg. next Tuesday at Iron Masters Country Club.
"We need to keep playing better and continue to lower our scores," said coach Funicelli.
The final Mountain League match of the season is next Tuesday at Iron Masters Country Club.
TEAM SCORES: 
Jake Taylor- 77
Brent McNeel- 81
Cassidy Miksich- 82
Colt Brooks- 85
Christopher Wilkins- 102
Trey Kyle- 105