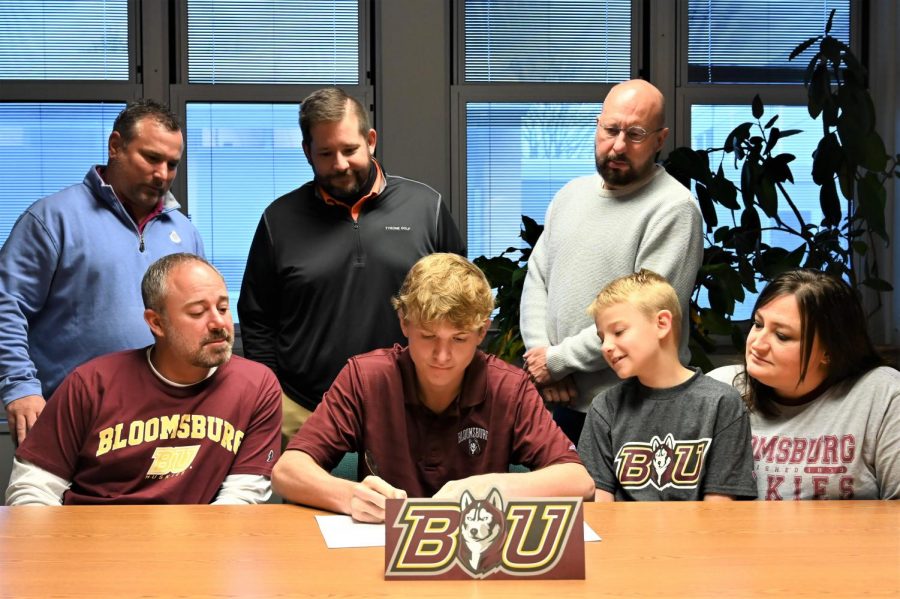 Senior golf standout Jake Taylor has committed to Bloomsburg University to continue his academic and athletic career in the fall.
Taylor will join five other freshmen and three junior transfers from New York to be a part of Bloomsburg's first men's varsity golf squad.
"I thought it was a beautiful campus. Great vibe while I was there. The golf coach is really interested in me and I like the golf course that I will be playing on," said Taylor.
Taylor was considering the US Air Force but chose Bloomsburg after receiving an offer from Head Coach Gary Sohosky.
Coach Sohosky is a Class A PGA Golf Professional and has previous college head coaching experience at Penn College of Technology, where he led his team to three conference titles.
Taylor plans to study business and finance at Bloomsburg.
Taylor has been a key member of the Tyrone Golf Team for four years. He led Tyrone to a Mountain League Championship in 2020, was named the 2020 Mountian League MVP, he finished fourth at Districts, and 15th at the 2020 PIAA State Championship Tournament.
"Jake was a huge part of our team. He constantly performed well, earned points in every match, and won the Mountain League MVP. The future is bright as long as he stays focused on golf and academics," said Tyrone Head Golf Coach Micheal Funicelli.
Taylor's mother, Tara Blocher is excited that her son will be able to compete at the Division II level.
"I am proud of Jake's academic and athletic accomplishments thus far and now his acceptance to Bloomsburg where he can continue playing and compete for four more years at the sport he loves," said Blocher.