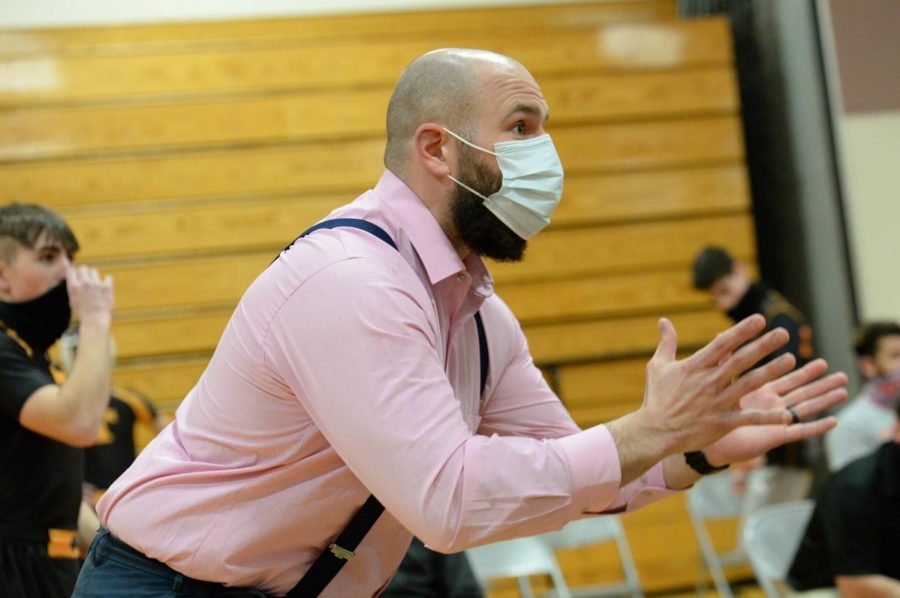 Terry McCaulley
Just as he was starting to reap the fruits of his labor, former Tyrone PIAA state wrestling champion and head varsity wrestling coach Terry Tate has decided to step down in order to focus on his professional responsibilities.
"After purchasing a second funeral home, my workload increased such that it would have been too difficult to continue coaching full time. It would not be fair to the kids," said Tate.
When Tate first took over the program four years ago, interest in wrestling was down and the team was struggling to fill weight classes, but under Tate's leadership Tyrone wrestling has become competitive again.  
In Tate's first season as head coach in 2016-17 the Golden Eagles posted a record of 4-9, but by his fourth year, the team improved to 7-4, beating big-name teams such as Altoona and taking first place in the District 6 AA Section 1 Tournament.  
Tate's career record as a head coach was 25-33 with a record of 14-12 the last two seasons.
Tate's staff, which includes assistants Buddy Walk, Jason Walls, and Jon Wallace, was awarded the AA Coaching Staff of the Year Award at the District 6 Wrestling Championships in Altoona.
Tate gave a lot of credit to his staff for the team's recent success, noting that they stepped up many times when his professional responsibilities interfered with the wrestling season.
"I think that collectively, everyone involved with Tyrone wrestling helped to put it back on the map. It was a lot of fun to be a part of," said Tate.
Coach Tate's efforts have laid the foundation for a good program for years to come, giving his successor a good basis for a great team.
Tate has had many memorable moments over the past four years, but last season stood out to him in many ways.
"In 2020 [when Tyrone] qualified for the district duals for the first time in almost a decade, and had five wrestlers advance to the PIAA SW Regional tournament. It was also a proud moment to see Hunter [Walk] on the podium in Hershey, knowing all of the hard work he put in," said Tate.
While he is stepping down as head coach, he still hopes to be involved and help out if asked by the new head coach. 
"I've tried to leave wrestling before and it pulled me back in. It's something that is very much a part of who I am," said Tate.
Coach Tate's legacy at Tyrone is significant. His athletic achievements on the football field and as a PIAA state wrestling champion would be enough to secure a spot as a Tyrone sports legend, but Tate can now also be credited with saving Tyrone wrestling when it needed it the most.
"I just want to say thank you to Mr. Rhoades and the school board for giving me the opportunity to coach at Tyrone…I really enjoyed my time," said Tate.