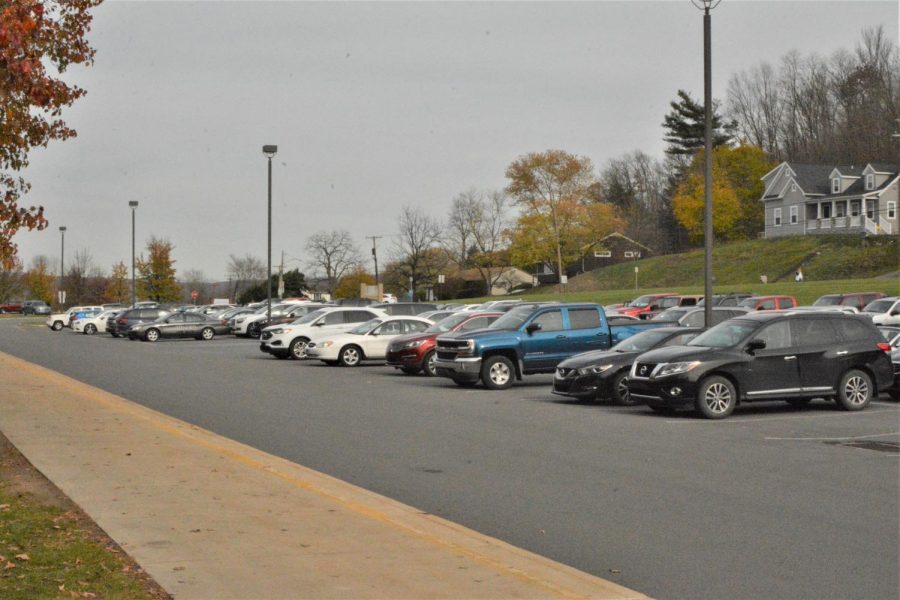 Evan Boone
The TAHS parking lot is full once again, and the school is cracking down on driving regulations and reminding students to be vigilant about being careful while in the parking lot.
A major concern with more cars in the lot is the potential for accidents.
According to Tyrone Drivers Ed Teacher Cummins McNitt, students should constantly be aware of their speed in and around the school parking lot.
"Students speeding is the worst offense," said McNitt. "while the speed limit is 10 mph, there are times you need to be going even slower. We have constant fender benders in our lots."
Student drivers agree with McNitt.
"We are all beginner divers and mistakes happen. If something is your fault, own up to it, and apologize. Safe driving is not a joke," said senior Lucia Isenberg.
Another major problem are the parking spots along the grassy hill area between the school lot and Clay Avenue.
"The second worst offenses occur when students try to back into spots against the grassy hill area. Drivers should always enter and exit parking spaces slowly. We have constant fender-benders in our lot because people are moving too quickly," said McNitt.
McNitt also would like drivers to pay attention to pedestrians in the parking lot.
"Students of all ages get out of cars and trucks in our lot and run into the buildings without paying attention to their surroundings.. Many of them are younger students who don't think to look before crossing through traffic. Drivers should be on the lookout for pedestrians at all times when near a school," said McNitt.
McNitt would like some improvements to the parking lot that would make it safer for drivers and pedestrians
"Personally I'd like to see removable speed bumps in our lots to slow down drivers. I say removable so that maintenance wouldn't have quite so many headaches when plowing in the winter," said McNitt.
In addition to safety concerns, TASD School Resource Officer "Bub" Dick would like to remind all students and staff to purchase and display parking passes at all times.
Officer Bub has issued dozens of tickets over the last couple of weeks to students and staff without parking passes.
"The whole idea behind a parking pass is to monitor who is coming in and out of the school parking lot at all times," Dick said. "The main reason students get tickets is that they did not purchase their hanging parking tags."
Students can purchase a parking pass at the main office for $20, which gives students the privilege to park for the school year.
Students should also be aware of the fact that parking passes can be revoked for disciplinary reasons and/or reckless driving in the parking lot.