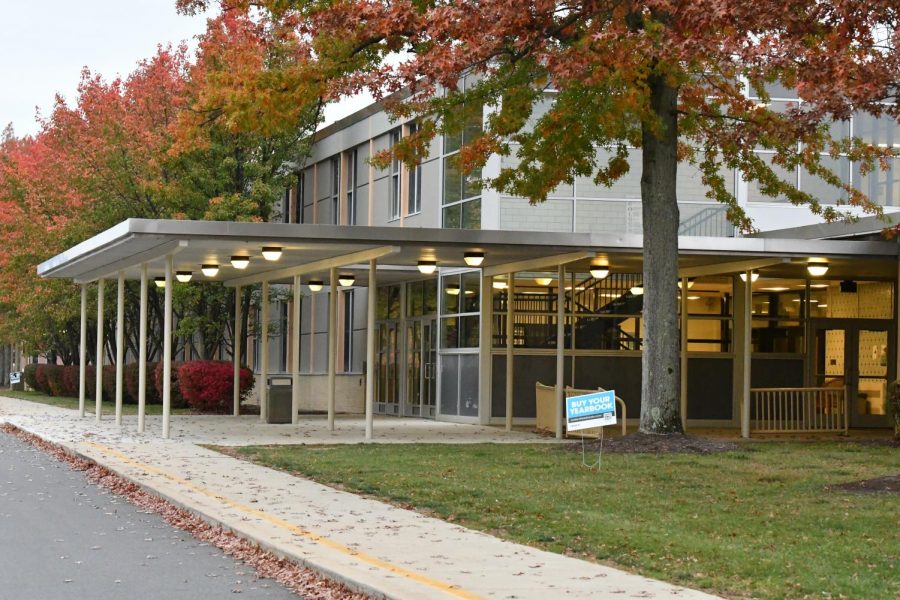 Todd Cammarata
Tyrone Area School District Superintendent Leslie Estep announced yesterday that despite a state recommendation to move to full remote learning, students in the middle and high school will remain in virtual learning and elementary students on a hybrid model until at least December 11.
A decision on the instructional model for December 14-22 will likely be made early next week.
Estep stressed that the situation is very fluid and that plan could change quickly based on future circumstances.
"The current instructional models will be continually reevaluated. It is extremely important to note that, based on the new guidelines, changes in the models and potential building closures could occur without much, if any, advanced notice. Please continue to keep contingency plans in place for your children as fully remote learning may continue or be instituted beyond the current benchmark of December 11th. For today, things will remain as planned," said Estep in a letter to parents and staff released Tuesday afternoon.
The PA Department of Health (DOH) and the PA Department of Education (PDE) current guidelines recommend a fully remote learning model for any school in counties with "substantial" levels of community transmission.
According to data published by the PDE, Blair County has consistently been at a substantial level of community transmission since October 30, Huntingdon County since October 16, and Centre County since September 4 (to download a PDF of the most recent data click here: Level of Community Transmission Table)
However, these recommendations are not mandatory and PDE also provided additional guidelines for districts that decide not to follow the department's recommendation and choose to remain open for in-person instruction.
"After some discussion with the administration and school board, we have determined to choose [in-person instruction for all or some of the students with adherence to the guidelines]," said Estep.
Estep and the school board decided to have students return to full-time learning on December 11 instead of transferring to fully remote learning because they believe face-to-face instruction is best for the students.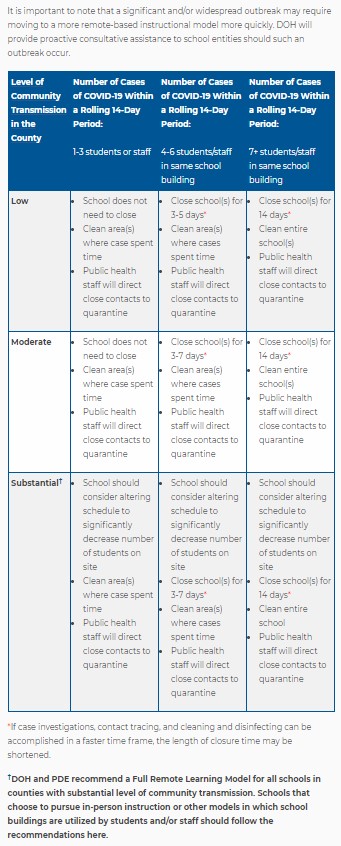 In her letter, Estep reported that there are currently six known positive COVID cases in the district, three students and three adults, but noted that there may be more cases that are either pending test results or not known to district officials.
"We do still have several students and staff members who are quarantined due to outside of school exposures and/or pending COVID-19 test results," added Estep in the letter.
Estep asked parents and staff to notify the school if they are infected or directly exposed to the virus.
"It is critical for families and employees to notify school personnel when exposures or positive cases occur as schools are often the first line in the contact tracing process," Estep said.
For any of the district's schools to return to full-time learning on December 11 as planned, the schools must meet the following requirements.
First are mandatory face-covering requirements, which have already been in place at TASD since August.
"Our students and staff have been complying with the mask requirement and we have been following the order provided by the DOH since the beginning of the school year. That being said, it is always a good idea for staff, students, and parents to review these requirements, as it is important to wear masks properly in and out of school," said Estep
One possible change however is that the Department of Health's definition of a proper face covering is one that covers the nose and mouth with material that is secured to the head with ties, straps, or loops over the ears or is wrapped around the lower face.
The guidelines indicate that disposable face shields, which have been popular with some students and staff, are considered an alternative that may be worn when wearing a face covering is otherwise not possible.
Estep did not address if face shields will still be allowable when students return.
Along with face-covering requirements, the DOH and PDE have also provided new recommendations on how to move forward when positive cases are confirmed within the school district.
According to the Department of Education, each of the schools in the Tyrone Area School District falls under the "medium schools" category and would require the closure of a school for at least 3-7 days when the number of cases is greater than four in the same school building.
"We will be legally required to close schools based on the chart if we reach the thresholds. This option does, however, allow us to close only the schools that are impacted by an increase in cases, not necessarily the entire district at once," Estep said.
Estep also noted that a significant shortage of staff and/or substitutes, or an abundance of quarantines wherein the school can no longer provide an effective education, could also require one or more of the schools in the district to move to remote learning.
Above all, Estep asked parents and staff to be safe and follow the guidelines for social distancing, masks, and to report new cases to the school.
"The number of rising cases across the country, Commonwealth, and our county is alarming. We will do whatever we can to provide students and staff with the best educational environment possible amid these circumstances. Over the holiday season, we continue to ask parents to quarantine their students if they have any concerns that they could have been exposed to the virus in any way," said Estep.
Note: To read the letter sent to staff and parents click here: Estep 12-1 Letter to Parents and Staff