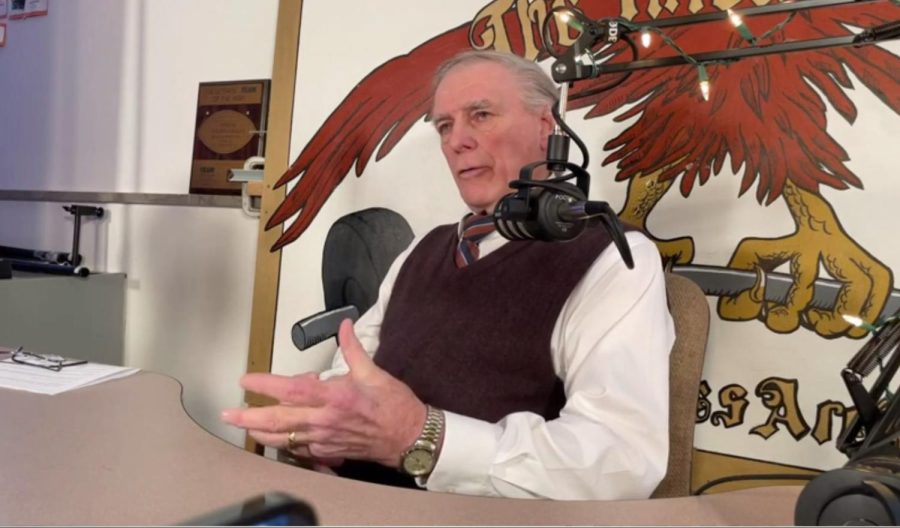 Aiden Coleman
Current assistant football coach and substitute teacher Tom Templeton was one of Tyrone's best football players in the 1960s and one of the first Tyrone players to be recruited nationally by major Division I college programs.
Templeton was named all-conference and all-state in both his junior and senior years. As a senior, he represented Tyrone in the Big 33 all-star game and was an honorable mention All-American.
After high school, Templeton continued his football career at Penn State and was on Joe Paterno's first team as head coach.
Templeton was recently featured on the Eagle Eye Talon-T Podcast, where he shared his experiences throughout his high school career and spoke about the people who helped him along the way.
Click the video above to watch the interview.
In his senior year, Templeton received over 130 recruitment letters from colleges and universities across the country, including Syracuse, Maryland, Notre Dame, and Penn State.
Templeton told a story about a recruiting visit he and his friend Dick Hoyne had to Kent State and the lifelong friendships that football created for him and his teammates.  Dick's dad, Bill Hoyne, President of the Chicago Rivet Company, drove his son and Templeton to Kent State. Templeton and Dick Hoyne are still friends to this day.
"Football, and other sports, give you such a lifetime connection, and you'll see this as you get older. I didn't see Dick for years, and now I see him at wrestling matches and basketball games," said Templeton.
One major difference from Templeton's high school experience to now is the size of the school. Tyrone graduated over 250 students per year in the early 1960s compared to the 130 students they graduate now.
Templeton also discussed how different training was in his day. Players were not allowed to have water on the field, and you were a 'sissy' for wanting a drink.
Templeton also discussed the differences between football in the 1960s compared to today, including lack of understanding when it came to concussions as well as not having access to the off-season weight training that athletes have today.
"Back then, we had a lot more one-on-one competition on the line. Today, we are a lot more cautious about injuries and concussions. I'm pretty sure I had two or three concussions and nobody cared. You just came to practice Monday and you did it again."
Despite all of Templeton's individual success, he emphasized the importance of his teammates and people in the community who helped him get to where he is now.
"I've always credited much of my success to Herb Werner who was from Tyrone, and Len Slither who, every week, always had always mentioned what I'd done," said Templeton. "Nobody is great on their own. We had a great team. For example, We had Don Friday, who taught at school here for many years, set a record for extra points. He had seven in a row."
The head coach when Templeton played was John Schoenwolf, who Templeton described as a tough guy who inspired his players.
Schoenwolfe was also a teacher at Tyrone High School and he was just as serious in the classroom as he was on the field.
The size of the team has changed over the years. In Templeton's day, there were 70 players or more on the team compared to the 35-40 athletes on the varsity football roster today.
But one thing that hasn't changed over the years is the support from the Tyrone community.
The town may have shrunk in population, but the support at high school sporting events is the same as it was in the 60s. Social media makes it easier now for the community to learn about local events.
Templeton began coaching for Tyrone after talking to Coach Franco at a banquet during his grandson Alex Weaver's senior year. He has been a volunteer coach for the team ever since.
Now that Templeton is a coach and has plenty of experience in the sport, he is trying to bring his own values to the sport.
"I think what I try to bring [to the team] is a sense of the past. A sense of toughness. A sense of fairness. And I really just try to know the guys. As a head coach, you know the players but you can't be as friendly to them like I can be," said Templeton.