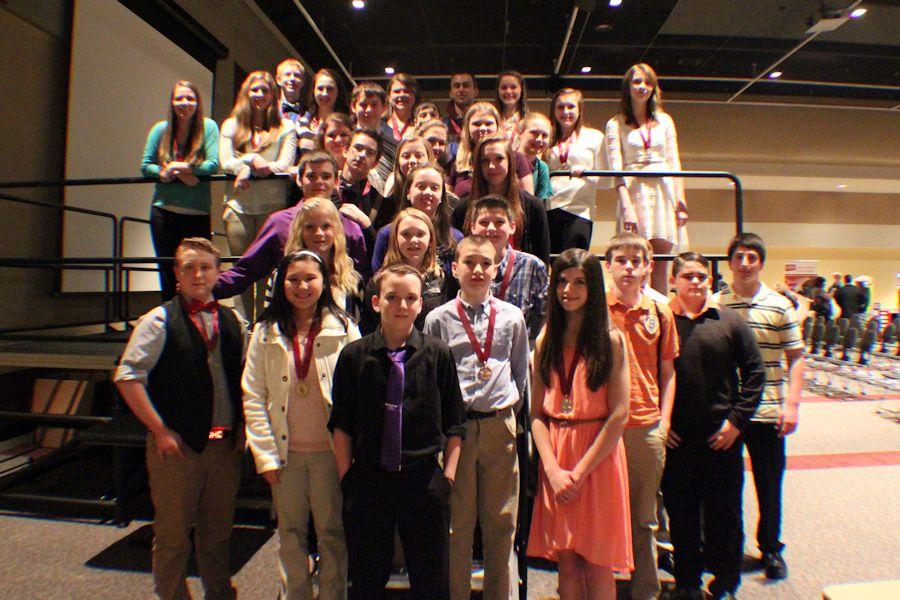 Suzanne Burket
Fifteen freshman from Tyrone High School placed at the regional National History Day competition at IUP and will move on to the state competition at Millersville University on May 12-13, 2014. 
Ten students from the middle school also placed and will also advance to states.
Tyrone teacher Suzy Burket took her freshman honors class students to the competition and was very pleased with the results. 
"Regionals were phenomenal," said Burket, "I knew that we had good projects, but I was overwhelmed by the number of our students that placed high enough to go to states."
"I like National History Day," said 9th grader Noah Welsh. "it's a fun experience and we get to meet new people."
National History Day or NHD is a competition in which students create a project based on a historical theme. The project can be in the form of individual or group performance, individual or group exhibit, individual or group documentary, individual or group website, and individual historical paper.
This year's theme was Rights and Responsibilities in History. Students could research any topic like a person, event, or idea in history that has to do with a form of rights or responsibilities.
"History Day is a great opportunity for students to practice their research skills in a method that interests them," said Burket, "it also helps them to get practice defending their research in front of experts at a university level and a chance for them to get recognized for their skills."
Then the competition is divided into  junior and senior divisions.
Tyrone had a multitude of winners at the regional competition, including students from grades seven, eight and nine.
"My favorite part of regionals was hearing our name called for 1st place," said Kasey Engle, 9th grade student.
All projects that place 1st, 2nd, or 3rd at the regional competition are invited to move on to States. 
Kenny McKernan, 9th grade student, said " I'm excited to compete in states and I hope to do well."
The 9th grade students who were involved were as follows, in their respective categories with their topics and places:
Group Exhibit:
Nathan Hormell & Kenny McKernan – Children's Television – 2nd place
Austin Shuey, Noah Welsh, & Gary Weaver – Challenger Disaster – 3rd place
Group Documentary:
Olivia Bietz, Kasey Engle, & Paige Umholtz – American Women in World War II – 1st place
Hailey Durbin, Cassie Friday, & Kendall Gardner – Frank Abagnale Jr. – 3rd place
Individual Website: 
Michael Cherry – 2nd Amendment – 3rd place
Group Website: 
Taylor Dixon & Taylor Hoover – 12th 13th and 14th Amendments and Jim Crow – 1st place
Justin Bickel, AJ Grassi, & Brett Robison – The Indian Removal Act – No placement