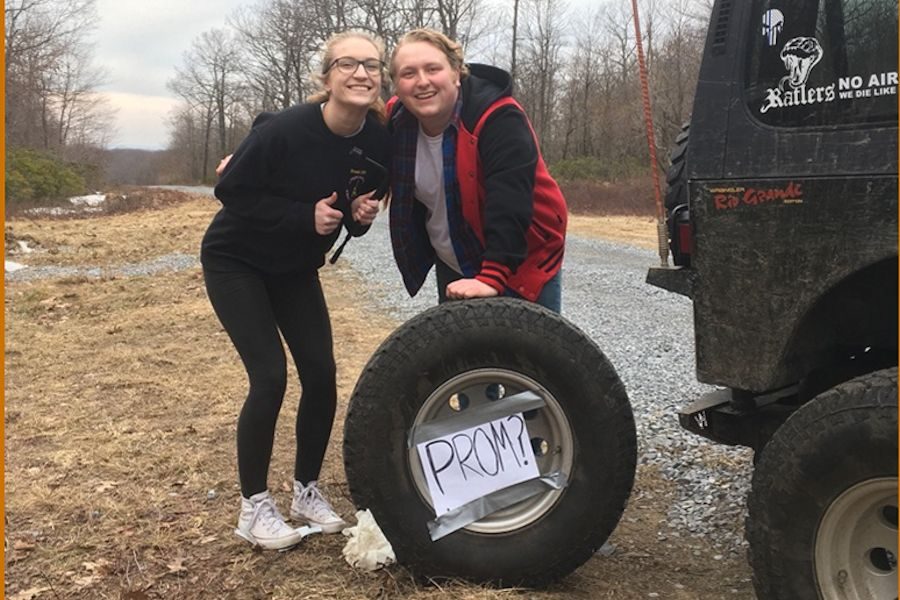 After a day of jeepin' through the woods, senior Nathan Hormell found himself with a flat tire. Trying to make the best of a bad situation, Hormell thought of a creative way to ask fellow jeep squad member and good friend Makenzie Stauffer to prom.
We had a chance to sit down with the two and talk with them about their promposal:
Promposer: Nathan Hormel
Eagle Eye: Who did you ask to prom?
Nathan Hormell: Makenzie Stauffer 
EE: Describe how you asked them.
NH: We went off-roading down an extremely tight trail. Then I proceeded to hit a sharp tree branch that popped my tire. When I discovered that my wrench was the wrong side to remove my spare tire, I enlisted the help of AJ Grassi. As I was changing the flat tire, I thought of a pun with the term "spare tire." So I grabbed a sharpie, duct tape, and  Aj's most recent Physics test, and taped a "Prom?" sign to the spare tire. I then rolled it over to Makenzie and asked "Spare me the pain of going alone? Prom?"
EE: Why did you choose this person to ask?
NH: Makenzie and I are good friends and I figured we'd have fun at prom together.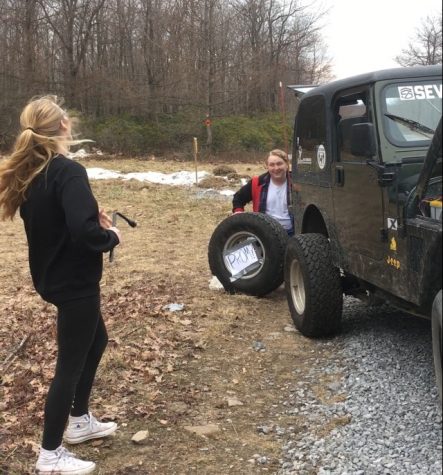 EE: Where did you get the inspiration of this idea?
NH: The gaping hole in the side of my tire. 
 EE: What is your relationship with this person?
NH: Compadres and fellow members of the Tyrone Jeep Squad.
Promposee: Makenzie Stauffer
EE: Give us your side of the story. Why do you think they asked you?
Makenzie Stauffer: We are good friends, we can't go more then 15 seconds without laughing. I think he realized we would have a bomb time at prom. 
EE: Describe how you were asked and how you felt. 
MS: Nate was getting his spare tire and I turned around to see if he got it. He rolled out the tire and asked me to "spare him the pain of going alone." I thought it was a creative and funny way to ask so of course I said yes. 
EE: Did you have any suspicions that you were going to be asked by them?
MS: I had a slight idea that he was, we had been talking about prom on the trail. But I didn't expect it at that time. 
EE: Why should you win the contest?
MS: We didn't plan to get a flat tire, but he made the best of of a poor situation and it was very creative. 
The two jeepers will be attending prom together on May 12th.