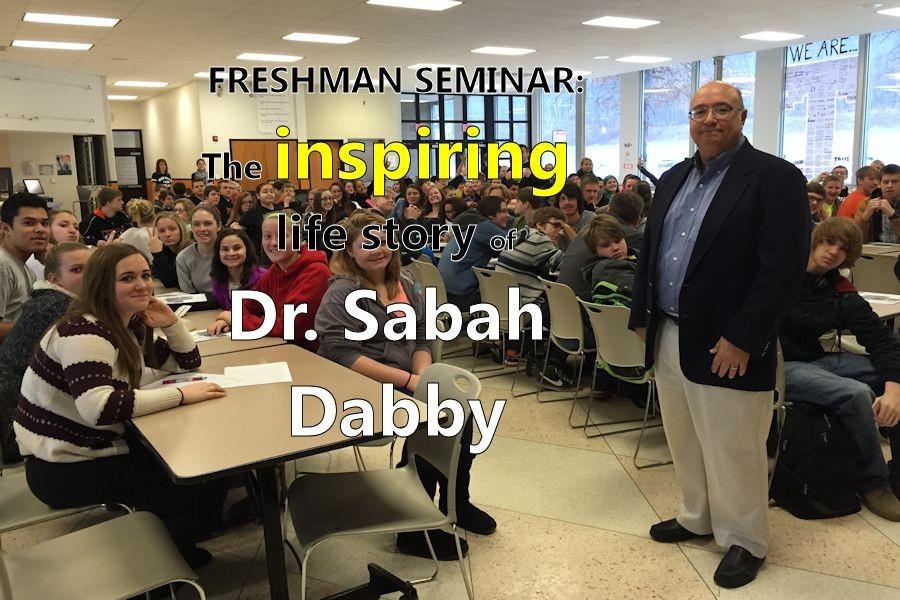 photo courtesy of Leah Deskovich
Throughout the school year Tyrone High School has hosted many speakers for the 9th grade Advisory class. Most Freshman Seminar speakers talk about how to act in school and ways to pursue future plans. All of them have something important to say, but for many freshmen one speaker has stood above the rest.
Dr. Sabah Dabby, successful businessman with a unique life story, told the 9th graders his amazing "Coming to America" story and gave some great advice about life itself.
Born in Baghdad, Iraq in 1946, Dabby and his family were forced to emigrate to Turkey because he was Jewish.  They had to move several times in his childhood to escape persecution and realize his dream of coming to the United States.
Dabby planned and worked hard to achieve his goals.  He got great grades in school, aced his SATs, saved money from comic book sales, and got accepted at Ursinus College, a Pennsylvania school that had a curfew—which was important because Dabby was only 17 when he came to the United States.
When Dabby first arrived he had very little, but through hard work, perseverance and the help of many kind people, he earned prestigious degrees from top notch universities that gave him the education he needed to become a successful engineer and businessman.
After sharing his inspiring life story, Dabby summed up his advice to the freshmen of Tyrone Area High School in a few short points:
Serve others
Be optimistic
Decide your life goals and aim high
Inspire others
If material wealth is your goal, you're on the wrong track
Education is key
Sports and extracurricular activities are overrated
Life isn't fair
Forgive and move on
Disagree respectfully
If you're on the right track, people will know, and you will receive help
At the end of his speech Dabby told the freshman a parable that his Dad often told to him:
"A old man walking across a bridge sees a young man drowning. As the boy struggles to stay above the water's surface, the man starts taking off his clothes and starts screaming at the same time 'I'm coming to get you. Start swimming to the bank edge'. Still the man kept yelling, 'Keep kicking and paddling; don't stop paddling.' By the time the man got down to the water, the boy was already at the bank edge. The boy said, 'I thought you were coming to get me'. The man said, 'All that time you could save yourself'."
The response to Dr. Dabby's talk was generally very positive among the freshman students.
"Dr. Dabby worked hard and showed he could make it. He influenced me to try harder in school," said Tyrone freshman Kobi Brower.
"I learned to always be kind to others," said freshman David Sprankle.
The next day in English class, each freshmen student in Mrs. Leah Deskevich's classes wrote a personal thank you letter to Dabby.
"Dr. Dabby's generosity and encouragement is boundless," Deskevich said. "He gives and gives and gives some more! I'm so thankful he was willing to share his time with us three years in a row."
Deskevich said that this year was even more encouraging than the past two because Dabby responded to every student who wrote him a "Thank You" letter.
"He responded positively [to my letter]," said freshman Brandon Ixtepan, "He told me to keep his story in my mind."
This personal connection was meaningful and appreciated by many of the students who wrote to him.  In his speech and the letters that he wrote back to the students, Dabby never said anything negative.
"I thought his story was very encouraging.  He told me to be the best I can," said Brady Brower, 9th grader.