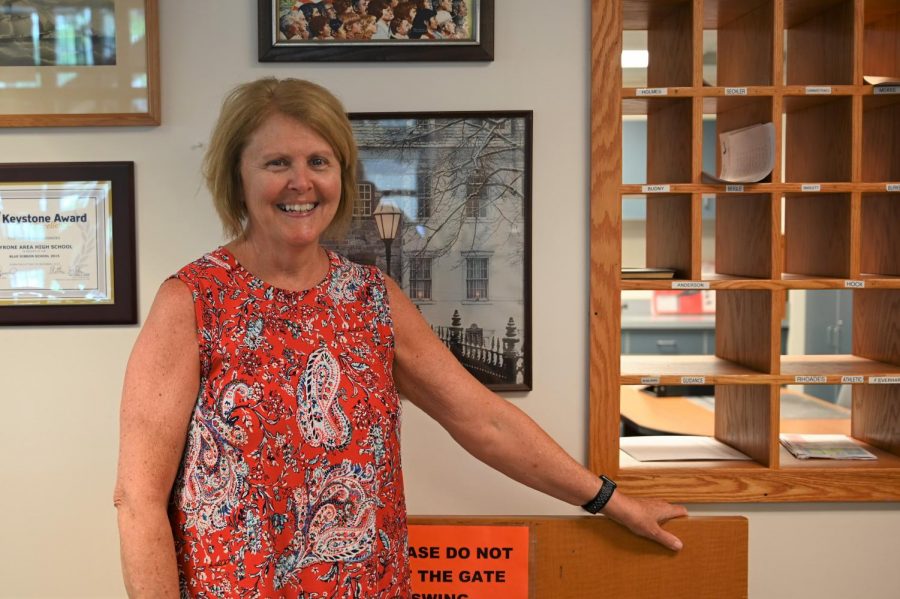 Chloe Sprankle
While every school's organizational chart has the principal right at the top, anyone who understands how schools work knows that it's really the support staff that keeps the building running smoothly.
Just ask Tyrone Area High School Principal Tom Yoder what he thinks about his long-time administrative assistant Cherie Golden.
"Cherie basically runs the high school," said Yoder. "She is extremely organized and is willing to do whatever it takes to get the job done, even if that means coming into the office at night or on the weekend."
But Mr. Yoder will have a new "number two" next year because Golden will retire in June with 34 years of service to the Tyrone Area School District.
"Cherie is like Mr. Yoder's executive officer. She knows everything about how to keep things running," said social studies teacher Suzy Burket.
There is hardly a question about the school that Golden can't answer.
"Regardless of job descriptions and titles, Cherie does it all. I think Mr. Yoder's sanity would have long since escaped him without Cherie by his side," said social studies teacher Cummins McNitt.
Tyrone senior English teacher Kathy Beigle is impressed by Golden's efficiency and work ethic.
"Cherie is a no-nonsense-get-things-done kind of person. She will be so hard to replace. She runs that office like a well-oiled machine. She's amazing," said Beigle.
But Golden's strengths go beyond meeting the requirements of her job description. Many teachers and staff members say that it's her sense of humor that they will miss the most.
"I'll miss her sarcasm and how she teases Mr. Yoder," added Beigle.
Guidance office assistant Karen Raling will miss Golden's sarcastic sense of humor, honest naive nature, and "the way she manages Mr. Yoder."
Being at the high school for 34 years, another of Golden's strengths is that she has seen it all.
"Cherie is the 'go-to' for so many prior year high school procedures and alumni. She remembers everyone," said guidance counselor Tiffany Johannides.
Golden graduated from Tyrone High School in 1974 and worked part-time at the YMCA and at Delgrosso's Park before beginning at TASD in 1987.
She began her career in the vocational wing under director Bob Westley. She later worked under vocational directors Janette Kelly and Allen Sell before moving to the main office when former TAHS secretary Marie Noel retired.
Golden has worked for four different principals during her career in the main office: Janette Kelly, Dave Heliniski, Rebecca Erb, and Tom Yoder.
Over the years she has been a mentor and friend to many of her co-workers.
TASD administrative assistant Brooke Yaudes shares office space with Golden and has really appreciated the laughs that they have shared over the years.
"Cherie has been like a second mom to me, I have enjoyed spending each day beside her, and will miss our daily conversations," said Yaudes, "I also hope that she is able to get her morning walks in and enjoy her grandchildren even more than she already does."
As for Golden, she will miss the people she works with but she's ready for the next step in her life.
She plans to make the most of her retirement and enjoy all of the time that she can spend with her family.
"I'm going to enjoy the option to wake up in the morning and say 'What am I going to do today?'" said Golden. "I have nine grandchildren and plan on spending more time with them."