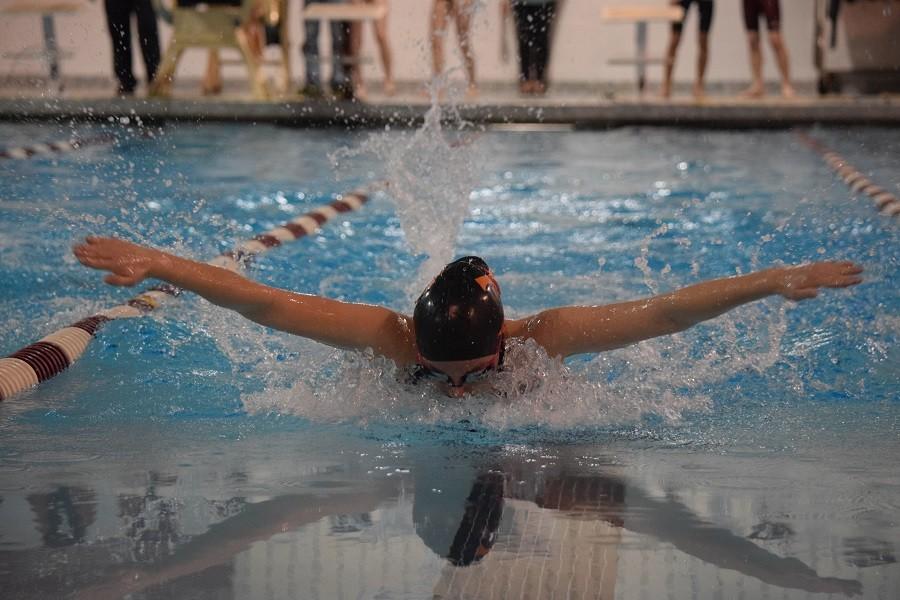 Molly Fadgen
The Tyrone swim teams gave it all they could for their final meet against rival Altoona on Monday night, but fell short to their talented bunch. The boys lost by a close score of 86-74, while the girls lost 101-63.
"We swam well," Coach Tom Getz said about the Monday meet. "but the score wasn't what I had hoped for [our last meet]."
Girls: Tyrone- 63, Altoona- 101
The Tyrone girls relays of Emily Beam, Allison Hosko, Abby Luensmann and Gwen Dougherty  took two second places in the 200 and 400 free relay.
"We had good times," said Luensmann, "but the other team had good swimmers."
The only double winner for the Tyrone girls was Beam in the 200 IM and the 100 butterfly.
Hosko was the only single first place winner for the team in the 100 breaststroke.
"We did our best against a hard team which is what counts," said junior Taylor Hoover, "We had fun for our final meet together."
Hoover dropped a second in her 100 backstroke time.
"We did as well as we could have," said Getz. "Altoona had more first, but it was one of our more closer meets with Altoona."
Boys: Tyrone- 74, Altoona- 86
Austin Quinn, Collin Rhoades, Blake Slobodnik and Ben McConnell earned a first place in the 200 free and second in the 400 free.
"[The boys did] well," said Quinn. "Even against Altoona, the guys came pretty close to winning.
Slobodnik was the only double winner for the boys in both the 200 and 500 free. He improved by three seconds in his 200 time and by nine seconds in the 500.
McConnell placed first in the 100 breast and dropped three seconds from his time. Bryce Bauer scored a win in the 50 free.
"The meet went well," said Rhoades. "The guys almost beat Altoona, [but it] could have gone better for the last meet."
Sergio Slobodnik worked off two seconds in his 100 breast time, earning him a qualifying time for Districts.
Even though the season is over for some, qualifying Tyrone District swimmers will now be in preparation for the District Championship Meet on March 4 and 5 at the Penn State University Natatorium in State College.
"I hope the district swimmers continue to drop time and shoot for top ten," said Getz.
BOX SCORE
BOYS
ALTOONA 86, TYRONE 74
200 medley relay: 1, Altoona (Marasco, Lawhead, McCarthy, Keirn), 1:59.92; 2, Tyrone, 2:14.08; 3, Altoona, :25.91
200 freestyle: 1, B. Slobodnik, T, 2:05.35; 2, Lawhead, A, 2:13.33; 3, Rhodes, T, 2:15.23
200 IM: 1, Marasco, A, 2:30.23; 2, Holopeter, A, 2:42.82
50 freestyle: 1, Bower, T, 24.12; 2, Shoeman, A, 25.28; 3, Keirn, A, 29.11
100 butterfly: 1, McCarthy, A, 1:02.55; 2, Holopeter, A, 1:16.70; 3, Slobodnik, T, 1:18.84
100 freestyle: 1, Shoeman, A, 57.54; 2, Rhodes, T, 59.99; 3, Quinn T, 1:01.13
500 freestyle: 1, Slobodnik, T, 5:53.36; 2, Marasco, A, 6:19.22; 3, Kratzer, A, 6:43.86
200 free relay: 1, Tyrone (Quinn, Rhodes, Slobodnik, McConnell), 1:49.21; 2, Tyrone, 1:59.31; 3, Altoona, 1:59.41
100 backstroke: 1, McCarthy, A, 1:0368; 2, Bower, T, 1:22.13; 3, Keirn, A, 1:36.32
100 breaststroke: 1, McConnell, T, 1:08.76; 2, Lawhead, A, 1:10.01; 3, Slobodnik, T, 1:18.27
400 free relay: 1, Altoona (Lawhead, Marasco, Shoeman, McCarthy), 3:49.86; 2, Tyrone, 3:59.14
GIRLS
ALTOONA 101, TYRONE 63
200 medley relay: 1, Altoona (Stoudnour, Heasley, Yost, Foose), 2:25.72; 2, Altoona, 2:27.15; 3, Tyrone, 2:39.85
200 freestyle: 1, Cummings, A, 2:16.79; 2, Gallace, A, 2:27.19; 3, Gampe, T, 2:44.72
200 IM: 1, Beam T, 2:44.67; 2, Heasley, A, 2:55.62; 3, Daughtery, T, 3:01.34
50 freestyle: 1, Reade, A, 28.31; 2, Smith, A, 32.38; 3, Milburn, T, 29.78
100 butterfly: 1, Beam, T, 1:10.25; 2, Yost, A, 1:28.79; 3, Kauffman, A, 1:29.74
100 freestyle: 1, Reade, A, 1:01.88; 2, Smith, A, 1:06.78; 3, Luensmann, T, 1:07.72
500 freestyle: 1, Cummings, A, 6:09.13; 2, Gampe, T, 7:18.55; 3, Hoover, T, 7:26.56
200 free relay: 1, Altoona (Smith, Gallace, Cummings, Reade), 1:59.67; 2, Tyrone, 2:02.09; 3, Altoona, 2:15.03
100 backstroke: 1, Gallace, A, 1:16.37; 2, Stoudnour, A, 1:19.24; 3, Hoover, T, 1:24.35
100 breaststroke: 1, Hosko, T, 1:26.08; 2, Daughtery, T, 1:26.68; 3, Heasley, A, 1:26.94
400 free relay: 1, Altoona (Cummings, Gallace, Yost, Reade), 4:28.26; 2, Tyrone, 4:32.21; 3, Altoona, 5:14.84
Team records: Altoona boys (8-4), Altoona girls (5-7)