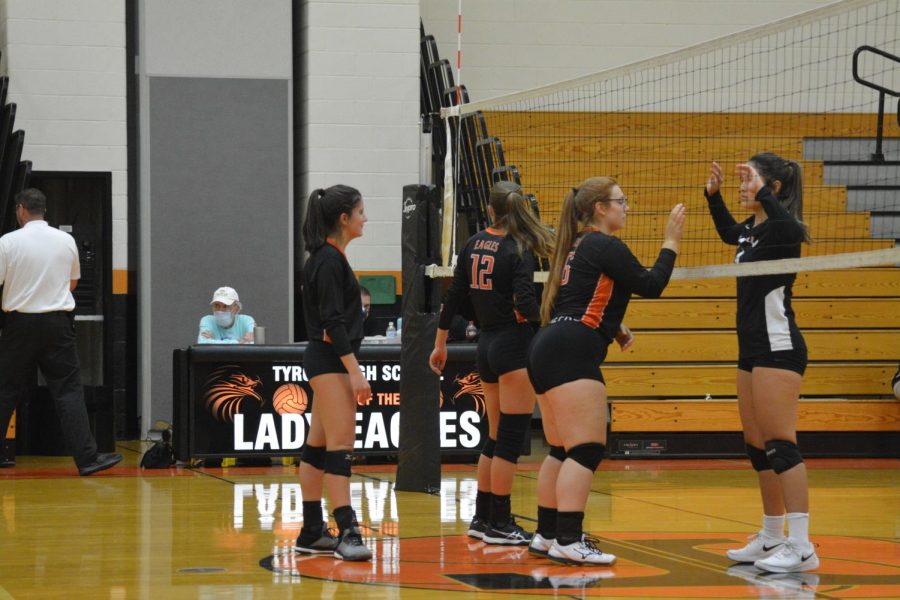 Ashlynn McKinney
The 2019 Tyrone Area Girls' Varsity Volleyball team earned the most wins in school history (13), and it's first-ever playoff appearance. But after losing to Central Cambria in the district semifinals, the girls are entering into the 2020 season hungry for a return to the playoffs and a chance to claim their first-ever district championship.
"The team has high expectations for this season. After losing only three seniors last year our team is experienced with some quality depth in our lineups," Tyrone Head Coach Michael Kraft said. "The practice gym is competitive. We just need to have consistent and consecutive high energy, competitive days in the practice gym to continue to play at a high level."
Senior middle hitter Courtney Williams is also confident in the team's abilities and looking forward to a successful senior season.
"We work well as a team and have the experience to go far," said Williams.
Fellow senior Miranda Goodman is also excited for the 2020 season.
"I expect this season to go really well. There are so many amazing players that work so well together. If we stay motivated and work hard, our team will excel," said Goodman.
One concern, that is completely out of their hands, is the lack of spectators due to Covid-19.
Pennsylvania's current restrictions allow only 25 people in the gym for games. As a result, the entire team cannot be in the gym at the same time, and the girls on the bench have to sit in separate groups.
"I'm mostly concerned about the no fans because what's any kind of sporting event if you don't have the energy of the audience to feed off of," said Williams.
In addition, with COVID cases rising in Centre County and State College already moving to remote classes, there is fear that the 2020 season could end sooner than expected.
"Everyone has worked really hard to put a season together, I just hope we can finish it," said Goodman.
Despite the challenges, the girls are excited to be playing again.
"It could be worse. do feel bad for the players to not have their parents, friends, and family in the gym supporting them….It is definitely a unique and unusual situation we are in," said Kraft.
Among the most anticipated games of the season are matchups with Philipsburg Osceola, Bald Eagle, Penns Valley, and Bellwood.
However, one game, in particular, stands out for many of the Lady Eagles.
"I'm looking forward to Bald Eagle. They have beat us the past couple years, and it would be awesome to beat them my senior year," said Goodman.
However, fans will still be able to watch the JV and Varsity games online as the Eagle Eye plans to live stream all home volleyball events.
There is a lot in store for the Lady Eagles Volleyball team this year and, as the girl's unofficial team motto, are ready to have a "Swagger Season."
Roster:
Head Coach: Mike Kraft
Assistant Coach: Bob Oberheim
Assistant Coach: Erin Lutz
Seniors:
Makenna Bauer (OH/OPP)
Madalynn Cherry (Setter)
Anna-Lynn Fryer (Middle)
Miranda Goodman (DS/Setter)
Courtney Williams (Middle)
Juniors:
Kaitlyn Houck (DS/L)
Holly Long (OH/DS/L)
Maecy Tuskovich (DS/L)
Sophomores:
Piper Christine (Middle)
Elaina Gehlman (OPP)
Hailey Houck (DS)
Reagan Irons (OH)
Gianna Maloney (DS/L)
Vivian Sciarrillo (OH)
Freshmen:
Brianna Harris (OH/Middle)
Ania Oliver (OPP)
Madelyn Rockwell (Setter)
Tiffany Tuskovich (OH/Middle)
Alyaa Wheland (OPP)
Eliza Yazzie (Middle)